Johnny
Special areas of focus:
The Seducers mindset
Long term partner investment
Rapid escalation
Sophisticated escalation
Extreme mindset shifts
Conversations that make Impact
CEO Founder of JohnnyCassell.com / Master Dating Coach & Strategist
With nearly a decade of coaching and a vast wealth of knowledge under his belt Johnny is known internationally as a true leader in his field.
His turn around and transformational expertise have been talked about in many huge publications and has also been featured on well known TV platforms.
Straight to the point, solution based dating strategist.
Katie
Special areas of focus:
Powerful insights into the female mind
Dealing with difficult women
Solid escalation techniques
Deep emotional rapport building methods
Katie is a beautiful and talented actress with an honest and open approach to life. As a tall, intelligent woman she can come across as intimidating at first, which in fact is what makes her a great wing woman. She is 'that girl' men notice. Because of this she can help build confidence and show men how to be more than just 'some guy with a chat up line in a bar' or to keep out of the dreaded 'friendship zone'. She is fun and creative with a detailed and honest approach to helping men progress fast.
Katie was initially brought in by Johnny Cassell to help out with refining men's conversation technique through role play exercises with the students. Since then she has been one of the most in demand trainers on the team.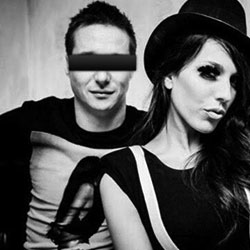 Maverick
Special areas of focus:
Non verbal escalation
Rapid escalation
Core confidence building
Social circle dynamics
Lifestyle design
T – Total game
Positive reinforcement
At 30 years old Maverick finally got clean from 13 years of heroin addiction. – he was left with zero self esteem and zero belief in himself – He couldn't even look a girl in the eye let alone have a conversation with them.
Still clean but after a very quick marriage and expensive divorce he found himself overweight, depressed, with even less confidence to engage the opposite sex.
3 years ago at the age of 33 he realised we all have a choice about who we are, what we are, and what we want to be. – He made a decision to change. Anyone can achieve anything if they put their mind to it and is prepared to put in the hard work. He wanted to be successful with women – not just average women but the women that made him break out into a cold sweat.
"Its about doing what scares you until it feels normal and then doing it some more until you're confident at it and then doing it some more until you are awesome at it."
Working alongside Johnny, Maverick has developed what can only be described by his friends as 'lethal' when engaging in the opposite sex.
"Choose who you wanna be and be that person" – Maverick
Dan
Special areas of focus:
– Day game specialist
Instant dates
Inner-game development
"In order to succeeded in life you must become internally validated. If you believe in yourself and have a positive mind-set this will transfer across in everything you do and soon you'll see major changes."
As a young boy Dan was very shy and timid with no real enthusiasm for academics or sports. Having neither an identity as a geek or jock he spent his school years in the background. He always wanted to be noticed by the opposite sex and longed for their attention and affections. Finally hitting puberty at age 15 Dan started to develop his confidence, however he was still not getting attention from women and struggled with loneliness. By 19, he discovered the Pick-Up community and began to study all he could. After several months of pushing himself out of his comfort zone he began to see results. The skills he learnt made positive changes in all areas of his life from his health and fitness to his dating life. This spurred him on to keep moving forward. Soon old school friends and former work colleagues could barely recognise him. He was no longer the shy young boy they once new. He was a confident, powerful man with goals and a path in life. However his mind-set, behaviour and approach was far removed from the weird pick-up scene he first read about and he had know developed a hunger to teach he dexterities.
After meeting Johnny Cassell in 2012 it was clear they both shared the same sensibilities regarding self-development. Dan soon joined the team and become the lead trainer of the JC programme. Dan now teaches various students from around the world and has opened hundreds of men's eyes to a way of life beyond what they ever thought was possible.
'H'
Areas of focus:
Social circle game
Nightlife dynamics
Social confidence
Enforcing Action
Rapport building skills
'H' has seen clubs rise and fall and is one of the very few who has not let nightlife taint his warm character and persona. This is very evident when you first meet H. If you don't know him you are left feeling that you wish you did or perhaps you should. After spending over a decade in the hospitality industry he is quick to make you feel part of the action. With his smooth talk, social intelligence and bold look H is a master of his craft.
It wasn't always so easy for H though, coming from a strict Christian upbringing he had a very different outlook to the way that you should interact with the ladies. He recalls being crippled in his own fear incase he offended or said the wrong thing that he just wouldn't say anything at all.
Knowing that he has to come out of his comfort zone, he started to take action and work on his social skills. Slowly building up the confidence to talk to the ladies at the same time in a respectful way he threw himself into the nightlife scene. He now is responsible for bringing 100's of ladies a month to all the hottest spots in London.
Timothy
Born in the North of England, Timothy moved to London to train in design and tailoring at Jermyn Street's Favourbrook.
Fusing a modern sartorial vision and his understanding for traditional formalwear, Tim works with a range of people and brands to curate original and elegant looks.
Tim's clients include Jude law, Keith Richards, Michael fassbender, Gary kemp, Alex James and Jack Guinness. Tim consults for brands including Swaine Adeney Brigg, Holland and Holland , Wingback, Hilditch and Berretta.
His work has been featured in a range of publications including GQ, Esquire, Mens Health and Billionaire.com to mention but a few.
Gareth
Areas of focus:
Building Social Circle's
Highly Experienced Wingman
Solid Follow Up Strategies
Online Dating (apps)
Over the past eight years, Gareth Jones has made a huge mark on the international seduction community as one of the most genuine, diligent, thoughtful, and thorough teachers in the industry. Having run successful training in nearly every major city in the US, he moved on to cover London, Melbourne, Sydney, Prague, Budapest, Barcelona, Madrid, Rome, Paris, and Belgrade!
Gareth is highly regarded for his focus on style and grace in interactions, and has been featured several times on national television programs (NBC's Bay Area News and ABC's Nightline) and international programs alike. He has been voted Best New PUA in the World at the Global Pick Up Summit, Trainer of the Year by the world's largest lair, and clocked in at #5 on PUALingo's list of 2013′s best dating coaches.
Gareth is known worldwide as a life-changing in-field coach and as the master of phone and text game. With linguistic skill and breakdown unequalled, he reports incredible results from students almost immediately, teaching skills that are immediately translatable. Gareth's coaching polishes game and brings skills to a James Bond level of suave.
Rocco
Areas of focus:
Behavioural Science
Sexual Escalation
Online Dating (apps)
Holiday Romancing
Growing up as a young Italian man, Rocco felt a tremendous amount of peer pressure to perform well with the ladies. Italian men are known to talk and brag about their conquests with women. However, Rocco was always the one in the group listening to how well his friends were getting on rather than having his own stories to share.
In Rocco's case, he used this pressure and turned it into something positive. From sneaking into nightclubs at the age of 17 trying his luck with the ladies to venturing to Ibiza to hone his skills. He would approach thousands of bikini-clad women trying to persuade them to join him at the wildest boat parties. He spent many seasons in the Balearic Islands mastering his craft and became a success. Now, you could ask Rocco about any one of his erotic and outrageous Ibiza conquest but, as you know, a gentleman never tells.
With a masters in Behavioural Science, Rocco is able to break down and analyse what it is he does in a format that the students can easily understand and make their own.
Diego
Special areas of focus:
Interior Design
It is a real pleasure to have Diego as part of the team.
Diego works very closely with our clients in helping them create an environment in their living space thats tells their guests a little bit more about them.
Diego has a background in architecture, interior architecture, kitchen design, bathroom design, furniture and art.  With all this baggage of information and experience the aim of the practice is to deliver projects not just carefully designed regarding the feel and look of the rooms but with special attention given to the detailing and effectiveness of the floor plan and furniture layout where the use of technology can have an important role to play, in a discreet manner, if desired.
Creating a home that is designed taking into account your life style, your understanding of beauty and the expression of where you are in your journey not just from the professional perspective but from the personal one is precisely what Diego  can help to materialise in your home. Loving what you have achieved, loving who you are and expressing that love in your surroundings is a testimony to you and there are few things with more power of seduction than that.
Dayle 
Style and Image consultant
Dayle's back ground in fashion and styling stemmed from footwear, in which he both designed and made boots & shoes.
Styling came to the table initially by not being able to afford the clothes he liked. His mother was a seamstress and he already knew how to work a stewing machine from doing footwear. So the inevitable happened…

He was a quiet boy, somewhat shy and very conscious of it. He wanted change, and styling did that for him in making his own clothes. Through making his own clothes he realised the power of creating attraction, In being unique, and being bold in the process. To let the clothes do the talking as it is the language that all women understand.

Styling is a beautiful power for those whom want to possesses it, It's not fashion. Styling is an individual thing. Highlighting the way in which something is made, designed, or performed.
Falling into modelling, following a girl friend that believed in him, Dayle attained a vast wealth of knowledge working with major brands and labels. 
Dayle has never been about fashion. His approach in working with clients is about creating the individual, to be the guy, to  own your own script, to play your own play and to ultimately leave with the girl. That's of course if you so wish!
Dayle is available as a bolt on for our seven day programmes. He is also available for style consultancy and personal shopping experiences.