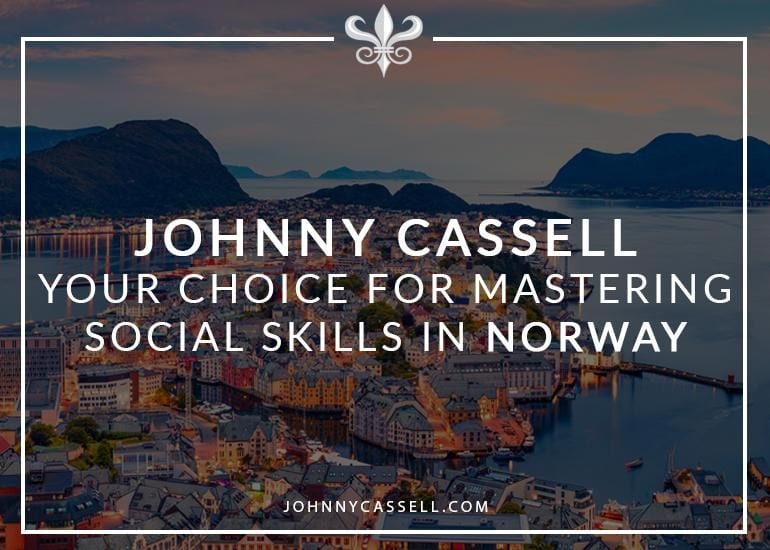 When it comes to understanding human behaviour and the nuances of the dating scene, few can match the expertise of Johnny Cassell.
Norway is a romantic country built on natural beauty, and it has ladies to match. You can transform your life into a tapestry of mind-blowing encounters with beautiful women by investing in yourself and developing a powerful sense of core confidence.
Johnny, as well as perfecting his own dating and social skills since 2005, has generated romantic success for thousands of men across the world. The best part of all: For the first time ever, Johnny is now available as your dating coach in Oslo and across the whole of Norway.
Johnny can provide life coaching in a wide range of areas. Be it building self esteem, improving your confidence, or overcoming your insecurities, Johnny is available to help you climb your peaks and see over the other side.
He teaches students in his sell-out Impactful Connection workshops, one-to-one bespoke Skype training, and his immersive 7-Day Program which has a 100% success rate in helping men hurdle their barriers.
Compatibility is the number one concern when choosing a dating specialist. You need to know they can actively help you achieve your dreams- that vision that is unique to you and nobody else.
Johnny has worked globally with high-ranking executives, lecturers, leading professionals, and students. He nurtures the elite into becoming even better. Working too hard without enough time to invest in yourself? Let Johnny take the reins.
His reputation precedes him as the go-to dating coach in Norway - so long as you are serious about raising your bar and finding kjærlighet.
The Johnny Cassell experience delivers much more than just a professional dating coach. Need proof? In addition to his sell-out training, his website hosts regular free blog content, podcasts, and inspirational video interviews.
Why not head on over to see why Johnny Cassell is the name on the lips of newly confident men the world over?
His game-changing workshops will help you master the following: