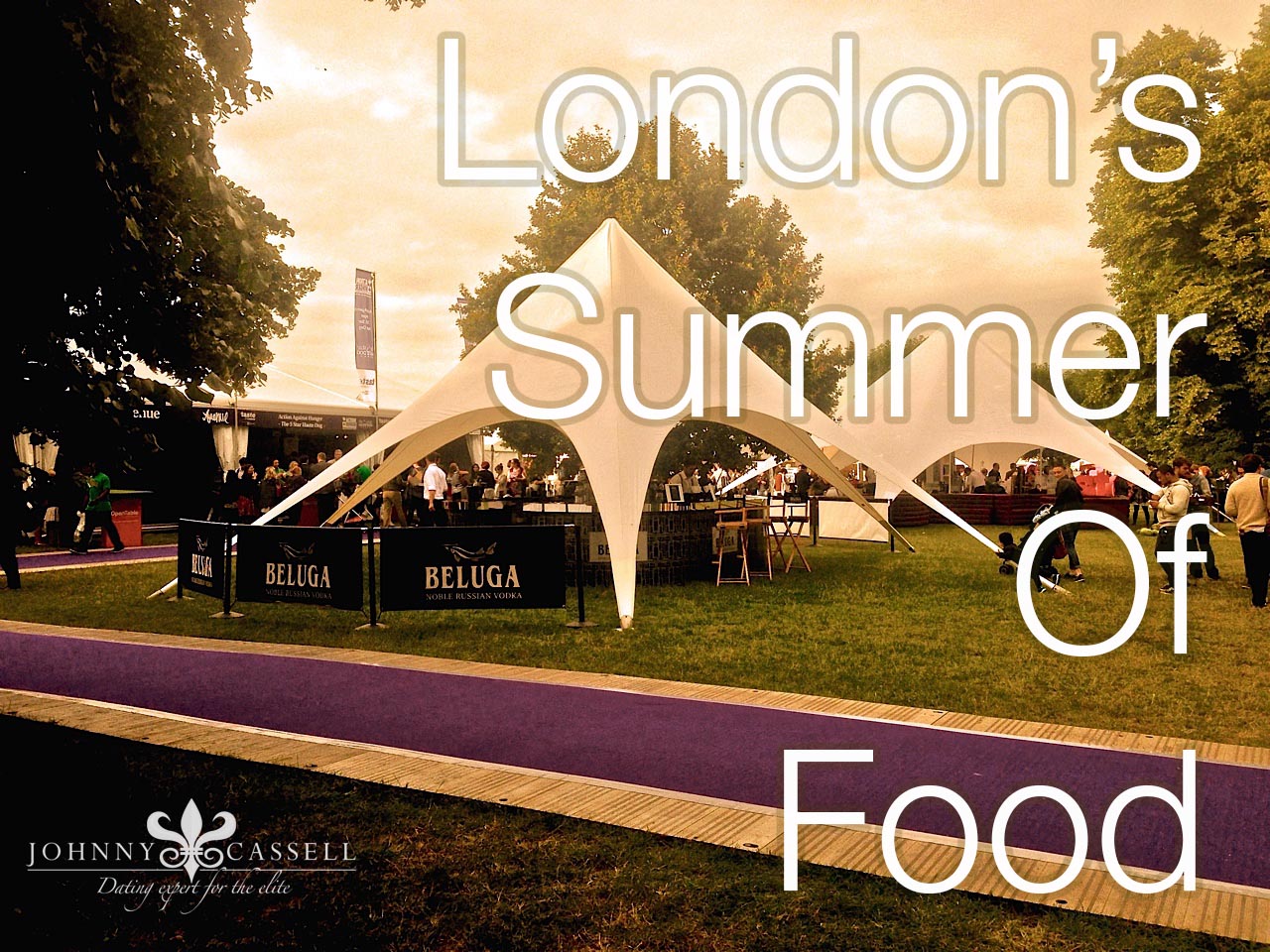 Mr Young joins us again to take us through some of London's foodie offerings this Summer.
We're set for a scorcher so this Summer is all about getting outside to eat and drink until our hearts are content.  Yesterday I was at Taste of London in Regents park, one of my favourite ways to kick start the summer in all it's al fresco dining glory.  The place is like a mini festival but instead of deciding which bands you're going to see it's which top chefs you want to visit and more importantly which dish you're going to choose.  It's a mecca for those who like to eat and drink with 40 of London's top restaurants exhibiting there from the double Michelin Starred Le Gavroche (complete with Michel Roux Jr serving you lunch!) to newcomers like MEATliquor and Shake Shack.  Highlights for me were Yuatcha's dim sum platter; three perfect individual mouthfuls of scallop, mushroom and venison all for about £5 followed by MEATliqour's cheeseburger sliders that really hit the spot after a whole host of delicate Michelin starred food.
All that food needs something to wash it down with though and luckily the good people at Taste managed to get some amazing boozy treats to accompany my dinner.  One of my favourites was Pilsner Urquell's tank beers which they shipped in from Prague that morning to give London the freshest beer it has ever tasted and it did not disappoint.  If beer isn't your thing then there are some great English producers such as Sipsmith and Chase who specialise in gin and vodka respectively giving you some amazing cocktails.  Another of my favourites was Chapel Down who make sparkling wine in Kent and had a great stall complete with fresh rock oysters if you were feeling particularly lavish. There are still tickets for today and tomorrow (Fri 20th and Sat 21st June) so if you're free I'd highly recommend it.
Don't worry if you missed Taste this year as it's back in November in Tobacco Dock for a it's annual Christmas event.  As for the rest of the summer, there are some really great events coming up that you should check out if you're a food lover or if you just fancy a change from the slightly predictable dinner date.
Every weekend on Southbank Centre Square there is The Real Food Market; a cornucopia of the best of London's street food scene and a great place to try some amazing food from up and coming small producers who really care about what they do.  This is a great day out and a chance to meet some really interesting people whilst stocking up on some amazing ingredients for the week.
Something I can't wait for is the Love London Food Festival on July 13th which is set to be an amazing event.  They are actually closing the whole of Regent Street to pack it full of street food vendors, top restaurants, boutique bars selling craft beers and cocktails plus music and entertainment all day.  I'm really looking forward to this mini festival and can't wait to try all the diverse cuisines our Capital has to offer.
For more information on any of the posts in the blog get in touch with your London Dating Coach by emailing [email protected]
Related Content
Great restaurants for a first date
Best places to meet women