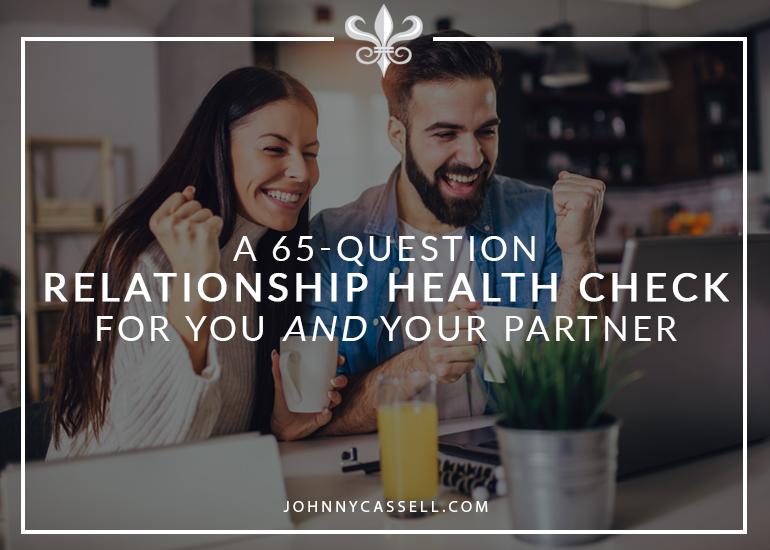 Effective communication is the lifeblood of a healthy relationship. A couple will benefit significantly from regular tests of their relationship's sturdiness.
A great way to achieve this is through regular check-ins. You can make sure your values still align and that you still have enough in common.
Some questions can help a couple kick off trips down memory lane. These moments of shared nostalgia are healthy and keep the relationship grounded in your history.
You'd go to the doctor and get regular blood pressure measurements, and relationships are a vital part of being happy, so why wouldn't you also keep stock of how yours is doing?
If cracks are starting to appear, this is a smart and simple method for identifying and addressing them early; the same way blood pressure checks can help you spot heart problems brewing years in advance.
There is no correct answer outside of your own connection with your partner. Every relationship has different nuances, expectations, and energy.
The processes of asking and communicating are the defining factors of a healthy relationship.
Apps like Happy Couple can help you structure the questions in a helpful, fun, colourful way. However, you only get them in drops of 5-question daily tasks.
If the two of you are looking to hunker down and get to the root of your relationship, you'll need a more immersive list.
Look no further. I've used 15 years of experience to provide 65 questions that serve as a checklist for relationship health.
Most questions are about how you think your partner would approach a specific situation. They should answer the same for you, and you can see how many answers line up and discuss them.
Guessing your partner's response is what shows how in-sync you both are. It also opens up the conversation and reveals how you perceive their approach to your relationships. You should also have answers to each question.
This checklist needn't apply only to long relationships. It's a great test of how likely a longer-lasting connection is to stay the course, so people just starting on their romantic journey with someone else will also benefit.
Relationship Health Check-in
If you can't get in touch with your partner, what's their preferred method of contact?
How often does your partner tell you they find you attractive?
What type of amenity would your partner like to visit?
Should you and partner keep separate bank accounts?
How would your partner rate you as a kisser?
What's your partner's ideal Saturday night?
Would your partner take a job that makes them happier for a pay cut?
Does your partner want kids?
What does your partner say to resolve a disagreement?
How does your partner spend their free time?
What role does physical fitness play in your partner's life?
Is your partner religious? What role does it play in their life?
What's the best gift your partner could receive?
How does your partner feel about their exes?
How do you feel about your partner's exes?
How is your partner's relationship with their family?
Which topics does your partner find extremely difficult to discuss?
When was the last time your partner cried?
If you didn't have to worry about money, what would your partner do for work?
How does your partner respond to financial stress?
What does your partner do that makes you feel loved?
How does your partner react to interruption during a conversation?
How hard would your partner say you worked?
What does your partner believe happens after death?
Who was your partner's best friend during childhood?
Does your partner enjoy receiving attention?
What was your partner's favourite subject at school?
What type of book does your partner like to read?
What's your partner's favourite movie?
List 3 of your partner's goals.
What was your partner's favourite year of their life?
Which of your partner's talents do they regard with the most pride?
What is your partner's most significant source of anxiety?
How would your partner say you respond in situations that cause them anxiety?
Would you say your partner avoids or seeks conflict?
If your partner has lost people, whose death would have hit them the hardest?
How does your partner relax when they're anxious?
When your partner can't sleep, what do they do to drift off?
Is your partner creative? How do they show that side?
Which topics do you think your partner finds difficult to discuss with you?
Which does your partner like getting first: Good or bad news?
How does your partner approach difficult conversations?
If you had to move to another location for work, would your partner change their life to move with you?
What would your partner do if there's no food in the fridge?
When do you think your partner would be ready to meet your parents?
Does your partner think sex is the most critical aspect of a relationship?
How does travel make your partner feel?
What does your partner do to diffuse arguments and tense situations?
In what way does your partner react in response to lateness or poor organisation?
If your partner had a superpower, what would they choose?
To which charities does your partner give?
Would your partner ever consider working with you professionally?
How important are your partner's friends in their life?
Do you and your partner share the same political views?
What do you think your partner likes least about themselves?
Is physical chemistry more important than emotional chemistry for your partner?
Does your partner feel that they have a good work/life balance?
Does your partner think of themselves as a good cook?
How does your partner fulfil their share of chores across the household?
If your partner encountered an injured person in the street, what would they do?
How much time do you spend with your partner every day?
Does your partner believe in ghosts?
If your partner was locked in a padded cell and forced to listen to one song over and over, which would it be?
Has your partner ever hit someone or been in a fight?
Does your partner have parts of their history they don't feel comfortable discussing?
Takeaway
Two people in a relationship should always learn more about each other.
Some of these questions are intense, some quite jokey and situational, and others more directly about plans and living together.
Make going through these questions a regular game, as it'll take your conversation to places that bring out the full colours of your relationship and see if they match.
Aside from my virtual Impactful Connection workshops, I also provide relationship mediation and advice to couples. Get in touch on the Contact page to learn more.