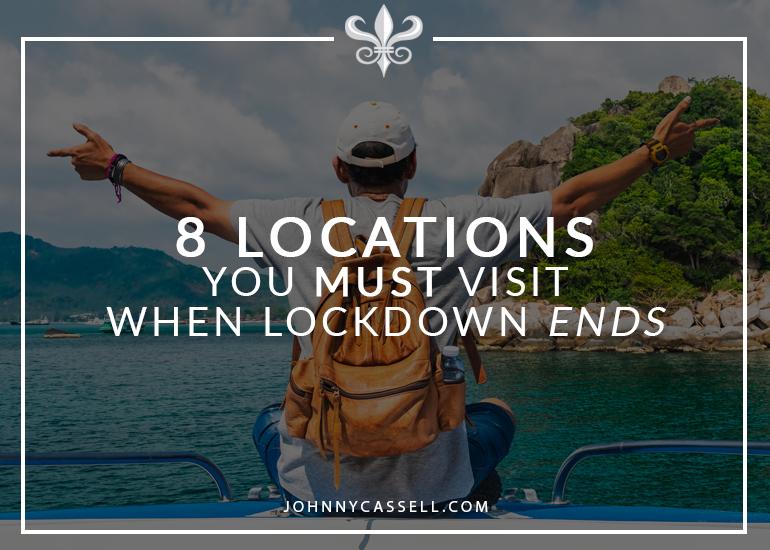 We all feel it – that yearning to head somewhere without knowing we'll next be putting up the cash for extra legroom, forgetting our troubles, and heading somewhere far, far away from the home in which we've been confined for months.
Having done so much work abroad in 2019, the pandemic has certainly been a crash back down to Earth for me. I believe travel is a cure for so many ills, a way to leave hang-ups a whole ocean away, and a brilliant window into worlds we never usually get to see.
However, I've written whole products about making the most of party island vacations, so believe me when I say the one thing I miss the most is partying and talking to hundreds of women a day in a beautiful location. There's an electricity that's just unique.
The hope that things will revert back to something approaching normal soon and browsing through potential destinations to reach once I can fly have both helped me through this. Likewise, I have amazing, lifelong memories from some of these places.
So, I figured I'd share my (plane) food for thought and give you some inspiration for your next holiday. I've focused on places that offer excitement, parties, and motion. After months of stasis, it's what we all need.
Mykonos 
Greece is such a great getaway. The food alone would be justification, but there are so many treasures amongst its tiny islands that you could explore for weeks and weeks without running out of fun.
Mykonos is one of these islands. The gorgeous little villages, natural beauty, and throbbing, tasteful club spots make this a must-visit location after a long lockdown.
It has a reputation on a par with Ibiza for its nightlife, and regularly attracts both high-profile DJs and celebrities to its sleek and high-class clubbing world. The Tropicana Mykonos beach bar is a world-renowned force of nature that demands a visit from even the most casual fans of having a good time.
Ibiza
This is the benchmark by which all other party islands are judged.
Ibiza has had a dominant presence on the world's party scene since forever. Staples of high-end clubbing like Pacha, Amnesia, and Ushuaia are but the tip of the iceberg, and the street culture of beach bars feed a free-spirited party atmosphere like almost nowhere else.
I make sure I hit up Cipriani's, La Huella, and Bagatelle Beach whenever I'm here.
It's one of my favourite places to return to, and I regularly do. I also take clients there for party coaching experiences. But it's less work, more pleasure for me – just a couple weeks of freewheeling, VIP bliss. I can't wait to go back.
Punta Del Este
This is a hub of the ultra-rich – in Uruguay of all places. At the south of the country, it's a stunning, classy, elite corner of the world.
You'll feel ten times more determined to work harder after seeing pictures of this place – you'll want to spend some quality time here.
Whether you're getting waffles at Hotel L'Auberge (weird in Uruguay, I know, but run with it) or strolling down Gorlero Avenue spending all the money you can in its galleries, shops, and world-class eateries, you'll treat yourself like a king in Punta Del Este – and pay for it too.
It's one of the best cityscapes in the world, on a par with New York, and it's completely slept on. Make this one of your first discoveries once normality resumes.
St Tropez 
St. Tropez is a pseudonym for a high-end, classy, memorable getaway. The French coast is always an ideal place to spend time, and it's white, sandy beaches are notorious throughout the world.
The likelihood of a celebrity sighting is considerable, and you'll absolutely live it up the entire time you're here.
What you don't always associate with St. Tropez is clubbing, but the cluster of night spots around the harbor are an irrepressible burst of life. You know the women you meet here will be of the absolute highest calibre as well.
Split
While Croatia may not spring to mind as a beach destination, anyone who's been to one of the many dance festivals that take over the coastline over the summer will know different.
Split, in particular, is such a treat. It's the second biggest city in the country – and it shows.The atmosphere is amazing and you can live like a king on a minimal budget (yes, including alcohol).
The string of clubs and bars near the Diocetian's Palace provide buzzing nightlife in an unusual setting. Croatia is 100% a punt worth taking – a Split decision you should definitely make.
Miami 
Oh, boy, does Miami have a reputation that precedes it.
While the mainland is quite touristy, although with a penchant for amazing Cuban cuisine it remains a fantastic visit around an eye-catching cityscape.
What really sets Miami apart is Miami Beach. From the legendary Fontainebleau hotel to the almost endless beach bars and eateries, it's essentially one giant party. Amazing women, relentless vibes – there's only one Miami.
London
Okay, so I'm a little biased. But I always count myself extremely lucky to call this place my home.
For such a historical city, this huge, packed metropolis absolutely pulses with energy (unless it's locked down). But, if you're not from here, and you haven't visited, you're missing out.
Whatever your music scene, it's accounted for – especially clubbing. Ministry of Sound is a dance music monolith, and Scala holds a reputation too. Plus, there's countless classy pubbing, dining, and schmoozing locations that play host to people who flock there from the world over – with good reason.
There's a corner of London for literally everyone. This is the one I'm looking forward to the most, and I can't wait to see my home turf spring to life again. Come say hi.
Denver
This is a more alternative option, and a gem that always seems to slip under the radar on location lists.
If you want rock, jazz, hip hop, and bohemian vibes, Denver is an uncut beauty. Despite having the appearance of a sleepy little cow town, there's a huge party scene through Five Points and a unique atmosphere throughout the whole city.
Cervantes' Masterpiece Ballroom has some truly legendary musicians rolling through from all genres, and Your Mom's House in Denver is a hotbed for amazing new music.
Add the hyper-friendly, legally stoned population, ultra-hipster approach to dining and decor, and resplendent mountains and countryside, and you know that kooky creative types will have an absolute field day here.
Plus, winter sports heads can get some air with heavyweight snowboarding and skiing courses.
Takeaway
It's so easy to lose focus at a time like this. However, it's important to keep our heads in the game, stay healthy, and build a reliable platform for growth in an uncertain future,
Whatever you do, stay motivated, work on yourself in your downtime, and keep happier times in warmer climes at the front of your mind.
I can teach you how to vastly improve your ability to seduce women both at home and abroad. Learn more about my Impactful Connection workshops.