8 online dating tips to completely transform your game
January 7, 2019 - 7 minutes read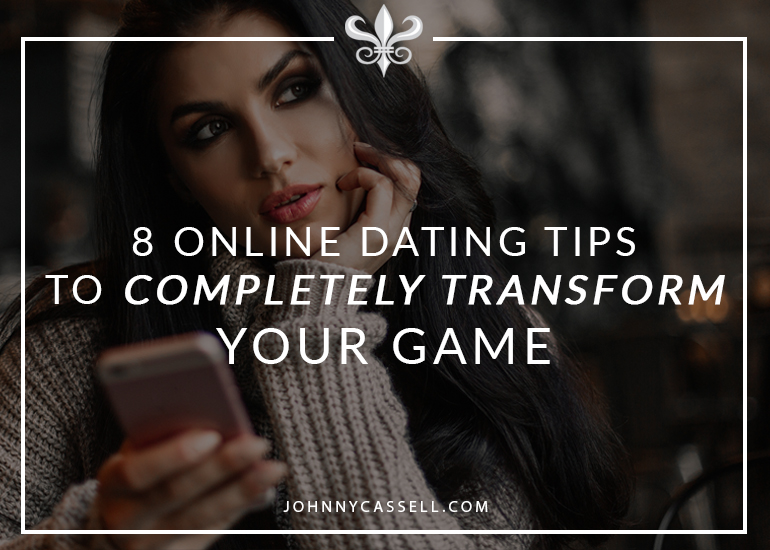 Online dating is a whirlwind experience. To avoid disappointment, follow these 8 tips to sharpen your game and hone your choices.
While knowing how to polish your profile is important, your attitude towards the dates themselves and the way you come across when you meet another person is vital for maximising the return on your investment.
1. Make your profile appealing
Your profile is your digital shopfront. It has to showcase everything that's great about you at first glance.
Your photos need to demonstrate that you're a go-getter who is successful, active, and fun loving. Your bio needs to describe you in an informative but entertaining way, describing why you like what you like as much as just explaining it.
It needs to have a playful, seductive hook, inviting women to get in touch.
If your profile isn't up to scratch, you won't be lining up enough dates to develop your game and master the art of talking to women.
2. Know your type
Before you enter any field of dating, you need to know what type of person you want to meet, and not based only on looks. What should their interests be? What scene should they be part of? What kind of personality should they have?
You need to define your terms so you can qualify any women you speak to against those standards. You get to be the one making the call, and this mentality will make you more attractive in the eyes of your potential dates.
You appear selected and able to choose, which removes neediness from the equation.
3. Pay for a service
While free services may seem more convenient and an easy way to test the water, you get a lot of fake accounts and timewasters.
Paying for an online dating service can separate the wheat from the chaff and get rid of timewasters. Very often, the website also offers a better and more specified service for paying subscribers.
Dating is all about return on investment: Getting the best outcome for the effort, time, and money that you're putting in. Refining your parameters by paying for a subscription dating service can be the difference between finding someone you settle for and someone you're passionate about.
4. Get into a social flow before a date
Some people get extremely nervous and pent-up before a date, and it's often their downfall.
Dates are exciting. They're a great opportunity to meet someone new and make a great impression with the possibility of progressing further. You need to embrace that excitement.
Listen to positive, vibey music that makes you happy, or watch a show that makes you laugh. Pour a glass of your favourite drink. Chill out for a little bit before your date.
Being in a great mood means you'll have a contagious sense of fun and positivity.
5. Be a gentleman
Guess what… chivalry is absolutely not dead. Women still love a gentleman so pull out the stops and show that you can keep romance alive.
While anything too artificial can feel a little stilted, genuine charm and politeness goes a long way with a woman you've only spoken to online.
Pull out her chair. Take her coat. And definitely offer to pay for the meal. Another nice touch is offering to put in for her car home.
6. Be genuinely curious
You should want to know all about the woman across the dinner table from you, not only because it keeps the conversation flowing, but also because it's your way of checking her against your values.
How does she get on with her parents? Does she have pets or love animals? What's her view on professional life? Does she get involved with charity projects? Even down to her music and movie preferences, really dig in and get a feel for who she is.
You need to make sure it will be worth your time pursuing her. The other important factor is to listen to what she's saying and respond to it. Make her feel listened to and valued.
And if she's not interesting enough to listen to, why are you at dinner with her?
7. Move dates offline as quickly as possible
In online dating, guys tend to focus too hard on being funny or sexual in a woman's inbox and not on progressing the interaction into a face-to-face connection.
While you should not hold back on showing your intent or being amusing to create rapport, sooner or later you have to set up a date and connect in person.
Be pragmatic. It shouldn't seem like a big deal – just talking about practicalities to hang out more.
8. Have fun
This is the most vital element of online dating. If it's starting to feel like a slog, you need to shift platforms or change up your approach.
If online dating isn't fun, it's because you're not doing it right.
Fun is contagious. It will make your dates enjoyable and successful, and give you the momentum to carry on to the next one.
I've put together an amazing guide to get you through the world of online dating – everything from setting up a profile to getting through a date.