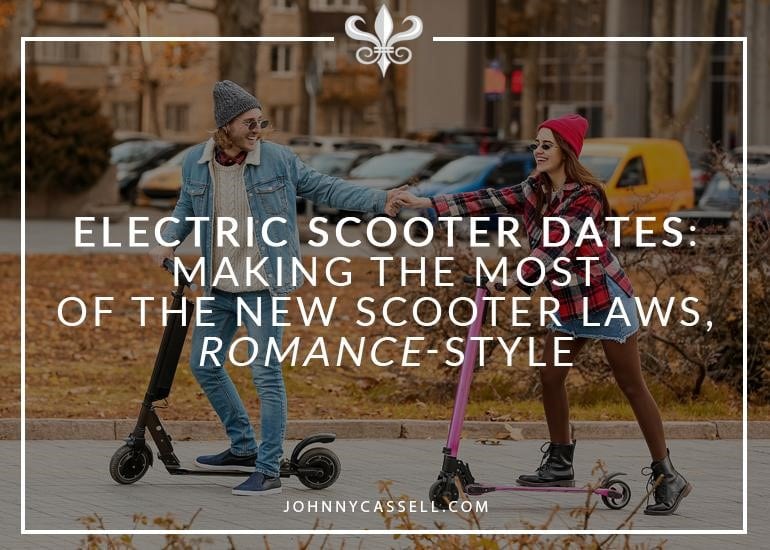 Finally, electric scooters are legal in the UK.
Following on the heels of many countries across Europe and several of the American states, including California, the UK has joined one of the most exciting recreation and transport revolutions for some time.
We've had Boris-Bike-esque schemes up and down the country for some time now, and places like Prague used to have Segway rental services before a ban ensued, citing safety issues. The UK now has a happy middle ground,
The idea of hiring a scooter for a date seems ridiculous until you realize just how fun and practical they can be. Plus, post-lockdown, not everyone will feel comfortable chilling inside a restaurant or bar – you're going to need to expand your repertoire, and this is the perfect way to do so.
I've got a few spot-on ideas to get you going. The great thing about an eScooter date is that you can stop off anywhere on the way and chill out for as long as you like. These are some beautiful routes around London – but the joy of the electric scooter lies in the freedom they give you.
No Underground, no face mask, just the wind in your hair. You can easily rent a scooter for less than £20 a day and have the whole of London at your disposal.
Hire A Pair of E-Scooters Today CLICK HERE
Inspiration for eScooter dates 
London is a beautiful, thriving, historic melting pot of a city, and even an hour of scooting about will draw up some beautiful contrasts and scenic settings for romance and bonding – night or day.
Little Venice to Regents Park to Primrose Hill 
One of London's underappreciated wonders is its canal system, and nowhere is it more tranquil and romantic than Little Venice. Appropriately named, you can take your scooters around Big Ben, the Tower of London, and the Rembrandt Gardens.
It's absolutely idyllic by day and sensuous by night. However, right nearby are Regents Park and Primrose Hill, both of which offer space, greenery, places to wine and dine, and views of the iconic London skyline.
Plus, you've got the area around London Zoo, which is also well worth a visit if you can find somewhere safe to park up your scooters. 
St James Park, Buckingham Palace, Hyde Park 
One of the most famous areas of London, the sheer scale and magnificence of Buckingham Palace, alongside the ornate flower gardens, beautiful architecture, and rich density of landmarks and beauty spots means you can't really scoot far around this part of London without seeing something that sparks conversation.
With tourism at an all-time low, there's actually never been a better time to appreciate the beauty of historic London without having to fight through throngs of people.
Around Greenwich 
Greenwich is simply beautiful. One of the most chill parts of London, you can scoot along the Thames to get there with a vantage point of the whole village.
You can swing by the Cutty Sark, the only surviving round-the-world Clipper vessel, as well as nipping around Greenwich Park, one of the most beautiful green spots in London. There's a huge range of world cuisine there, so you can grab some eats by the waterside.
This is ideal for a quiet, chilled out date with a lot of conversation and scenery. Greenwich simply has a unique atmosphere you won't find anywhere else in London.
Picadilly to Soho to Covent Garden
The bright lights, the unique plaza in Covent Garden, the bohemian stylings and insouciant cool of Soho… this route is an absolute feast for the eyes, night or day.
While you probably won't be seeing a West End musical anytime soon due to social distancing guidelines, this route is so gaudy and picturesque that simply gliding around on an eScooter is a show in itself.
Victoria and Embankment By Night 
Home of some of the coolest old-school architecture in the City, as well as Waterloo Bridge and Victoria Gardens, a riverside, night-time eScoot along one of the Thames' best and prettiest areas is about as reminiscent of a "bicycle made for two" as you can get in the 21st century.
You've got so many pop-up restaurants and food stands around that you're bound to find a place to stop, refuel, and chat before taking in more beauty.
Hire A Pair of E-Scooters Today CLICK HERE
Takeaway
The way we date and enjoy our cities are about to change dramatically – so get ahead of the curve, take the lead, and show initiative.
Whizzing around on a simple, motorised, convenient little vehicle is a kinetic and fun way to show your partner a good time.
Get involved.