Is Casual Dating for You?
May 29, 2017 - 10 minutes read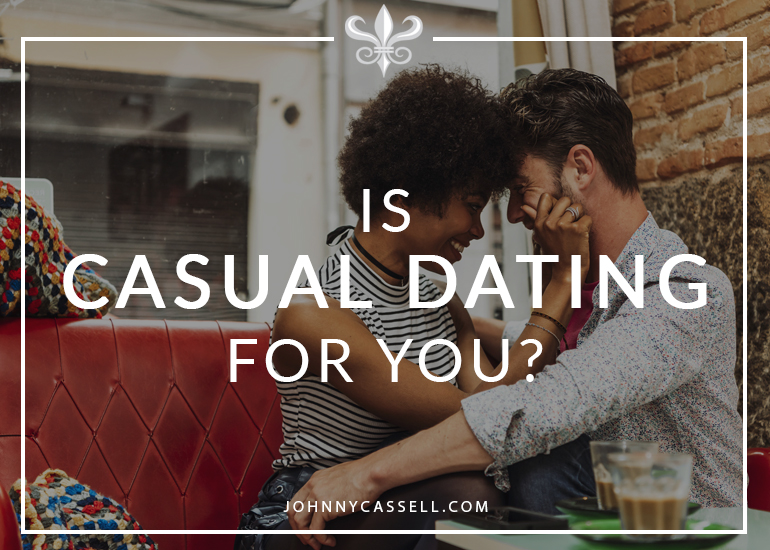 Casual Dating Tips and Advice
My line of work obviously involves advocating the merits of all kinds of dating. There's varying levels of relating to women that all have virtues and drawbacks depending on what type of person you are and what you want from life.
If you don't want to deal with the emotional investment and energy it takes to make a serious relationship work, and it's a lot, you might be more interested in casual dating.
What is casual dating? Casual dates are those where the boundaries are laid down from the outset. You're not looking for anything serious or long-term and you're both on the same wavelength. You may even see other people. With casual dating, no commitment is required.
Casual dating can be a lot of fun, and very often you'll have to go through quite a few casual relationships before you get to a connection at which you really want to work. However, too long spent casual dating could deprive you of the richer rewards of being in love, if that's something you're ready for.
Well, Casual dating vs serious dating is a face-off for the ages, and I'm not letting Zak Snyder make a crappy blockbuster about it. Here's the best of my casual dating advice.
You have an extremely full and busy life.
You've just come out of a long, serious relationship.
What are your responsibilities like?
You need practice.
You're sexually inexperienced or a virgin.
You're looking to grow in confidence.
You're scouting for the one. 
So let's look at a few situations that could suit an incursion into the world of casual dating, no commitment required.
You have an extremely full and busy life. 
I always say in my courses that the best lifestyles have balance, a mixture of everything moulding you into a well-rounded, confident person
But in today's world, where we have to manage our personal brands 24/7, we may simply have a fast-paced lifestyle without room to settle down with someone. Perhaps you travel a lot or work ridiculous hours. You could be ultra-social, and love constantly partying with loads of different girls, which doesn't leave a lot of nourishment for a deep, long-lasting relationship.
Either way, a serious relationship is either going to be short or miserable if you simply can't put aside the time for it. And that's fine – you simply have other priorities right now.
Is casual dating a good idea for you? You don't have to deprive yourself of some fun and impactful connections just because it won't lead to anything serious. Get involved, meet new people. You might find the girl that convinces you to slow down.
You've just come out of a long, serious relationship. 
Not that you're likely going to want to, but there are some who jump straight into another long-term relationship after a break-up, simply for comfort. It's never a good idea.
A good, solid bout of casual dating could be just what rebuilds your confidence. You'll get a taste of the other women out there, and you'll be able to gather strong reference points for future dates.
You don't have to rebound all over the place – that's how things get broken. But don't give yourself to someone just after you got yourself back. Restore your energy and assess your mistakes. And more importantly, have fun.
What are your responsibilities like? 
People who look after sick/elderly relatives or single parents with kids can often have a hard time balancing the people who need them with new people. Time is very limited and deep and meaningful relationships need a lot of it to flourish.
There is also the question of the role this new person will play in the life of whoever you're looking after. Will your kid see a prospective long-term partner as a new mum? What effect would a break-up have on them?
Casual dating keeps the partners that may have an impact on whoever you're caring for at arm's length, and can be a fun escape but also hard to maintain.
Make sure your responsibilities don't suffer as a result of your relationships with others.
You need practice.
 Quite frankly, maybe you suck at dating. You could actually be looking for something deeper, but remain hopeless at maintaining conversations and sparking attraction.
Some people shy away from this, or try to settle, instead of facing your fears. But you actually need to do some casual dating. You're the sort of person I'd prescribe casual dating to.
Meet different types of women. Take three things away from each date to work on, and take it into the next one. Rinse and repeat. You'll be getting better and better and you'll soon be able to act more selectively when thinking about a serious connection.
You're sexually inexperienced or a virgin. 
Look, your mates aren't reading. It's you and me. If you haven't really done it before, you probably shouldn't be committing yourself to someone for a long time. Perhaps when you're younger, but when sex just hasn't come up yet for you and you're a bit older, you shouldn't commit yourself.
Explore how to get to that sexual encounter and grow in confidence. Don't give all of yourself to one person until you know you can give that special woman the sexual experience she expects. It also means that you won't get overexcited and blow it when she arrives on the scene.
There's no shame in it. People mature at different rates and come from different environments. But you can work at it, and that's through casual dating. If you need help, use an online dating service or dating app to maximise your chances.
You can always get in touch at the bottom of this page if you need more in-depth tuition.
You're looking to grow in confidence. 
You might simply be looking to flirt a tremendous amount. It does wonders for the confidence if you're in short supply.
Speed dating events could get you used to that mentality really effectively, and you can then move into dates. Some people even see it as business networking, and carry the skills across.
Either way, you may not be looking for anything from dating beyond a boost to body language and core confidence. It only comes with practice.
You're trying to find the one. 
It could simply be that you're stuck in casual dating, looking for the one. Casual relationships might just fizzle out when you wanted them to continue, or stay casual without progressing. In which case, you'll be having a miserable time and wasting a lot of that time too.
Maybe you need to reassess your stance and have some fun. You know when you lose something around the house, and the moment you stop looking it turns up? Finding someone special is exactly like that.
You only attract the right people by giving off positivity and confidence, and that will only happen if you're having fun.
I can be there to support your journey through whatever type of dating you're interested in. Get in touch here.
Related Posts
https://www.johnnycassell.com/seduction/dating-at-40-50-and-60
https://www.johnnycassell.com/attraction-skills/how-to-flirt-with-a-woman-without-being-sleazy