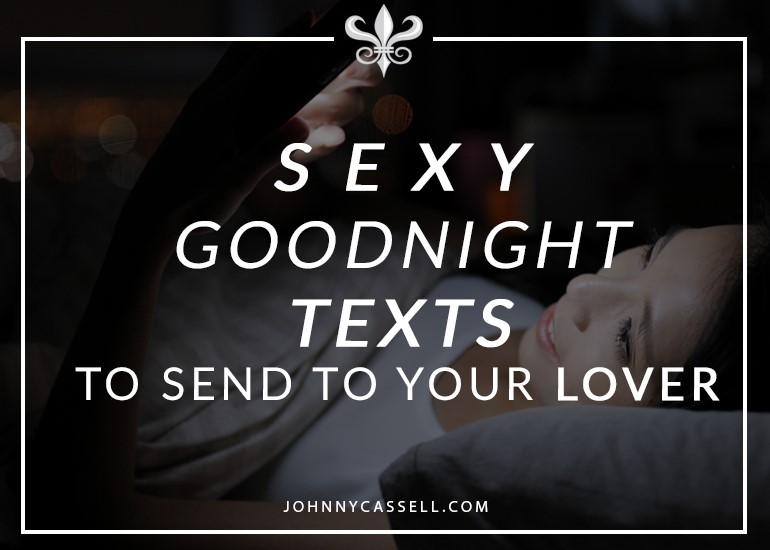 By Erin Elizabeth
Goodnight texts are essential to any relationship because it tightens the bond between two people. It's the kind of text that you send to tell someone that you're thinking of them before your day ends. It will make you feel like you are truly connecting if you do it right. However, it can be tricky. A sweet text will be well-received by your boyfriend but the same sweet text can be read differently by a crush. That is why we made two separate lists of cute goodnight texts– one for boyfriends (sweeter and sexier) and one for crushes and flings (a few notches tamer).
25 texts for BF
I wish you're sleeping beside me, babe.
I will dream of you tonight kissing me.
I'm craving for your scent and your warmth tonight.
I'm in bed smiling because I feel lucky to have you in my life.
Before I close my eyes, I just want to say I love you one more time.
I'm counting the nights until we'll be together again. I miss you so much.
I'm hugging my pillow and wishing that it's you.
I want to kiss you until I fall asleep. Goodnight sweetheart!
I'm thinking of you and now I can't sleep.
Thank you for existing.
I just want to remind you how happy I am to have you.
Goodnight, best boyfriend in the universe!
Sweet dreams to the most awesome person I know.
I can't wait for us to sleep in the same bed, babe.
I want to wrap you in a warm embrace before I close my eyes.
Warm hugs and kisses to my man!
I want nothing else but you tonight.
Help! I want to snuggle with you.
I wish I'm hugging you instead of this pillow.
My bed is waiting for you.
I miss seeing your sleepy face first thing in the morning.
I'm going crazy because I can't stop thinking of you beside me tonight.
I can't wait to kiss you again tomorrow.
It's funny. I can't sleep because I keep seeing your face.
Stop entering my head, babe. I need to sleep!
25 texts for crush
Hey! Just want to say goodnight.
Can't sleep without saying goodnight to you.
I hope you sleep well tonight!
I've had one of the craziest days at work but you're never out of my mind. Goodnight!
Can't sleep because I'm thinking of you.
I had so much fun today. Goodnight!
You're the reason I can't sleep right now.
Augh. Why do you keep crossing my mind?
Sleep well, little devil.
You take away my day's bad vibes.
I'm glad I met you in this life. Goodnight!
You're the reason I will have eye bags tomorrow!
I'm smiling now knowing that I'll see you again tomorrow.
I'm counting the nights before we see each other again.
I wish you're here with me tonight.
The night's young and I wish you're beside me now.
Goodnight, handsome guy.
You're trespassing my mind again!
Just want you to know you're keeping me awake all night.
Sweet dreams, sweet guy.
A guy like you deserves a good rest. Goodnight!
I want to dream of you tonight. Please visit me in my dreams.
I hope you sleep like a baby tonight.
I wanna see your face before I sleep.
It's good to be sleeping under the same sky with you. Goodnight!
These can help you become creative but the trick for a touching goodnight text is to be as personal as possible. Use your pet names, inside jokes, and your common interests if possible. Also, make sure you have a giving mindset when you're sending a goodnight text. Don't text goodnight text to receive a longer goodnight text. Don't pout if you don't get any reply. It's something you give freely without waiting for anything in return.
Related Content
https://www.johnnycassell.com/effective-communication/sexy-goodnight-texts-to-send-to-your-lover
https://www.johnnycassell.com/effective-communication/what-to-do-when-she-doesnt-text-back