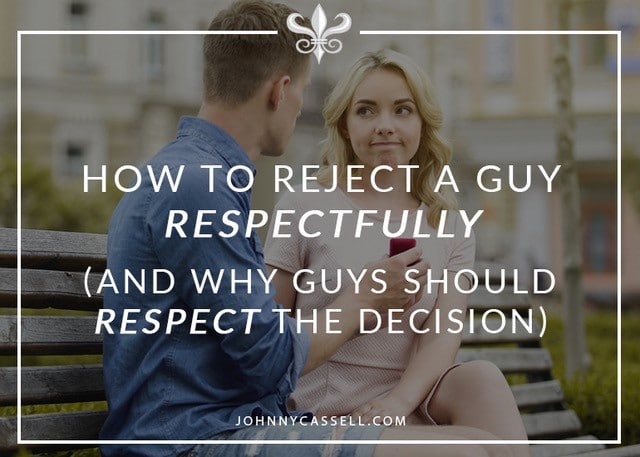 It's no secret that many women feel worried about rejecting guys they don't like. However, respect should be mutual in an interaction, and being able to set boundaries safely is essential for all parties.
The best way to remove stigma around delivering rejections is to realise that they are not real. Boundaries are vital for the safety of women in public spaces everywhere and they should be honoured and respected.
But what people see as rejection is actually just the establishment of boundaries in a social conversation. The role of any man making an approach is to inspire enough comfort in the woman with whom he is talking that they adjust their boundaries with romantic intent.
It's a framing issue. The notion of rejection carries connotations of hurt pride. However, if a you say no to the propositions of a guy in a club, you're giving him feedback that he didn't inspire attraction in you. It's the very framing of rejection that causes men to react poorly, in ways that make women feel unsafe.
I shouldn't have to write this article in 2020. It's entirely and utterly wrong that women are made to feel this way for merely stating their preferences or declining a sexual encounter.
Throughout 15 years of teaching men, one of my main objectives in helping them develop confidence is to reduce how severely some can react to their idea of rejection. A healthy ego and sturdy self-esteem can withstand it, and women don't deserve to feel intimidated in clubs and bars.
However, even in situations where a guy doesn't act like a complete douche, learning how to let someone know you're not interested politely is a critical skill.
Reframing your concept of rejection could help you let people down gently without generating ill feeling and afford you greater confidence in setting out your expectations in personal and professional life.
Allow me to overturn your ides of rejection.
Things To Avoid When Rejecting A Guy
The key thing to remember when setting boundaries with a man is clarity and communication. Ambiguity is no-one's friend here. Stringing anyone along is a sure way to cultivate resentment and ill-feeling.
The realization that a person doesn't like you the same way you want them is a relatively bitter pill to swallow. So delivering the news is a careful tightrope to walk.
Ignoring or avoiding them
It's best to be direct when you're delivering feedback people might not like.
Guys should take three messages without reply as a clear signal that you're not interested. However, many don't.
Some men get more and more aggressive with each passing message, causing a considerable amount of discomfort and pressure.
It's not your responsibility to reply – you could ignore them forever if you wanted.
But it's fairer not to leave someone wondering if you like them or not, and it's a far surer way to make sure you don't receive unwanted contact.
Dodging meeting up by lying about prior engagements
If you agree to the idea of meeting up but say you're busy every time, you're leaving the guy in a weird state of limbo. He'll keep trying to meet up because he won't know how you feel.
When you finally drop the verdict on him, he'll likely be frustrated – and, in this case, with good reason.
Non-committal date-dodging is annoying in every walk of life, so don't be that guy.
"I'm not dating right now."
This response is fine – if it's true.
If it's not, you're doing yourself a disservice. Just because you don't want him, it doesn't mean you have to protect his bravado by pretending you don't want anyone.
If he finds that you're dating a few weeks later, he's going to feel pretty misled, and that's going to generate some tension and negative sentiment.
Making a friend out of him
Not everyone you meet has to enter your life as a friend. This goes double for people who've already told you they see you in a romantic light.
They may see any resulting friendship as a "substitutes bench" on which they can sit until needed. Any other guys that enter your life might face jealousy and even sabotage from this guy.
It will never be a real friendship, as he's already told you he wants different boundaries for the relationship. If you don't want to pursue that type of connection, the honest and healthy thing to do is tell them how you feel from the jump and wish them well.
The Best Way To Reject A Guy
You don't have to be rude about it, but the best way to go about letting a guy know you're not interested is to be forthright and truthful. Don't make it personal. "I don't think you're good-looking enough" or "you bore me" is just hurtful, even if you feel that it's true.
Instead, try the following angles:
"Our date was a good time, but there wasn't that chemistry there for me. Thanks for a fun night and good luck."
"Thanks for a great night, hope you got home safe. However, I didn't feel like we clicked."
"I appreciate the invite, but I don't see you in that way."
If a man approaches you in a bar, and you're not interested, let him know straight off the bat. Otherwise, text is your best avenue for being direct from a safe distance.
If you just met, it shouldn't be a big deal for either of you. You're clearly stating your intent or lack thereof. It's his job to swallow his pride and move on.
Stand by your decision.
Most guys will get the message after a clean, honest rebuff. However, there are always a few hangers-on who seem to linger in your inbox like a bad smell.
You've done your bit, and now he's overstepping the mark. At this point, you can ignore him. Block him on social media if he won't take the hint or starts getting offended and demanding justification.
Avoid caving to the pressure and setting the wrong expectation.
Stay out of contact.
It's not a good idea to walk back your decision and reinitiate contact. It muddies the boundaries and might give him the impression that he still has a shot.
Things could get ugly quickly, especially if you're going to suggest breaking contact again a little while later.
You have no guilt to bear and owe him neither friendship nor time because he expressed an attraction towards you.
How Men Should Deal With Rejection
To reiterate, the way he reacts is not your responsibility. 
Guys, here's a reminder: It's still up to you to generate enough confidence that you see any 'rejections' as feedback and not a blow to your pride. 
Knowing that you can move on to another interaction without dropping your positive, social vibe is key to dealing with a response that doesn't match your expectations.
If you talk to a large number and wide variety of women, you'll learn to put fewer stakes in each interaction. Your pride will be fully intact, she'll feel safe and comfortable, and everybody will feel a little less awkward.
Summary
Dating should be fun and thrilling. Unfortunately, not everybody has the same level of confidence or expresses self-esteem issues the same way. Others can be entitled and vicious.
Clear communication is going to make setting up firm boundaries much safer for you and much fairer on everyone.
Related Content
10 Signs She's Really Not Into You