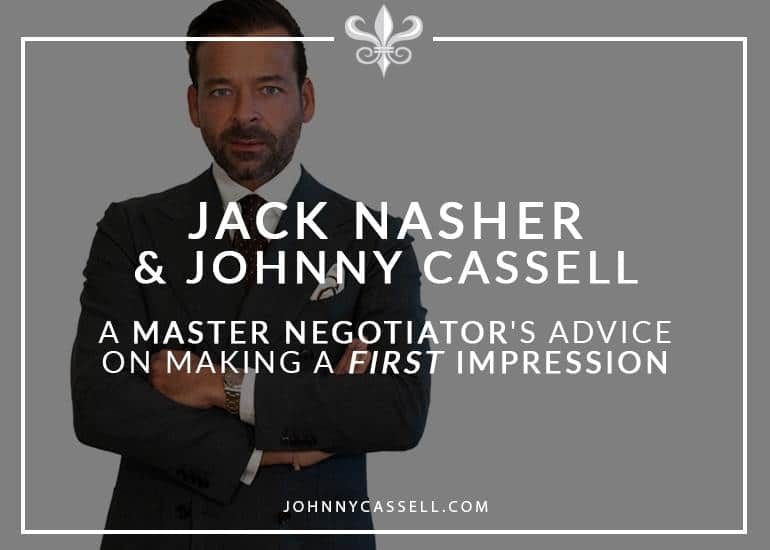 Welcome back, guys.
I love talking to fascinating characters, and it's better still when they agree to come onto my show and share their expertise with my listeners.
It was, therefore, an unbridled pleasure to speak with Jack Nasher. He's the bestselling author of "Convinced! How To Prove Your Competence And Win People Over" – an amazing read I got into over lockdown – and an amazing mentalist, negotiator, and lecturer.
Who is Jack Nasher?
Jack Nasher has chops as a master of persuasion and negotiation. He's a worldwide authority on verbal persuasion, body language, and creating your best self.
As a negotiation expert, Jack has high level endorsements from Harvard Business School and Aston Martin's CEO, among others.
He's also a teacher, having both studied and taught at Oxford University. Jack currently teaches at Munich Business School and remains part of the faculty at Stanford
University, as well as having experience with the European Court of Justice, the UN, and on Wall Street's leading law firm. In short, he's in the big leagues.
He is also the acclaimed author of multiple bestsellers and has appeared in the Wall Street Journal, the China Times, and Forbes.
As a passion, he's also a mentalist and magician who regularly performs at L.A.'s exclusive Magic Castle.
What you'll learn from this episode
It's simple: Jack has made it his life's work to understand the science around persuasion and manipulation.
The word manipulation often has negative connotations, but every sales pitch, hairstyle, and use of language is a manipulation of sorts. It's up to you to make them work in your favour and use conversation to find a balance.
People who are after financial success, power, and confidence have a lot to gain from this episode. It's a scientifically grounded, fascinating window into the workings of the human mind while people are using persuasive language.
We live in uncertain times, so showing certainty and clarity when working with others can lend great authority to your actions.
In this episode, we cover:
How he got started with negotiations through magic
The way table magic and card tricks help him with making cold approaches
Methods for getting really good at something – the relationship between mastery and practice
The power of making improvements
Being able to handle a "no" – how negotiation training helped
His upcoming mentalist collaborations
How to influence people
Why people's impressions are irrational – and how to hack a first impression
The importance of presentation
His friend's unpublished research on physical attractiveness
Why a negative impression is more powerful than a positive one
Understanding how physical attractiveness manipulates you in surprising ways
Why everything you do is a deliberate manipulation to make people like you
Why ethics don't concern him when it comes to self-development
How to deliver bad news
Ways to talk yourself up and why modesty is overrated
The power of certainty, and why doubt is such a barrier to progress in a negotiation
And much, much more
I hope Jack's perspective gives you a window into your own success.
Make a powerful first impression. Learn about my Impactful Connection workshop.