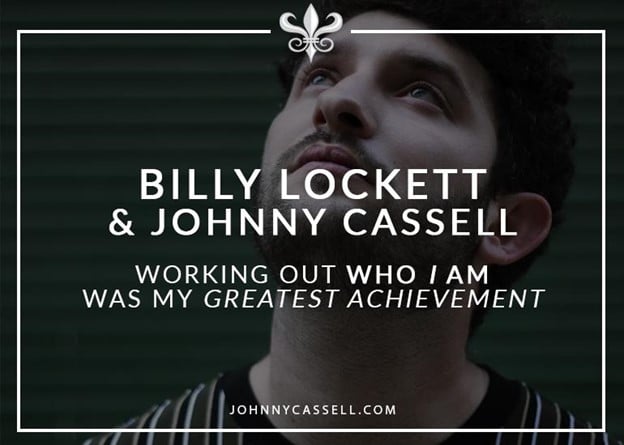 Captivating musicians have a powerful ability to connect directly to people's souls. I was lucky enough to have Billy Lockett on as a guest, whose beautiful voice and musicianship are amongst the most engaging out there at the moment.
I am all about connecting with people and making an immediate impact – it's at the core of my Impactful Connection workshops and all of my courses. It's how a person enters a room and instantly becomes magnetic.
There's a lot to learn from the ins and outs of a musician's journey to being heard. It was a privilege to have him share his story on the channel.
Who is Billy Lockett?
Billy is a musician and writer operating at the peak of his powers. He also happens to be a great friend of mine.
I met him while he was playing a fashion show, absolutely nailing the piano and singing beautifully. It's rare that I see a performance so powerful that I know I have to be friends with someone, but he captured something in me that day. Almost instinctively, I asked him if he'd play at my girlfriend's birthday gathering.
Fortunately, he became my friend very shortly afterwards. It also seems that the world has discovered him. He now gets over 1.2 million Spotify listeners every month. Billy has toured with ELO and, perhaps more impressively, is selling out his own tour dates across the UK and Europe.
On my recent adventure to L.A., he happened to be there at the same time. As I was departing on my flight home, he was performing on James Corden's show.
Today's takeaways
 Billy hasn't had a breeze through the world of music. He's faced up to addiction and even being signed to a label led to its own problems.
He only fully started to enjoy the amazing life he's built once he took ownership of who he was and developed some self-awareness about his potential for rebuilding.
The same applies to your journey through dating – stagefright applies whatever the stage, and overcoming it is extremely empowering. Stagefright often stands in the way of talking to women, crushing job interviews, and having difficult but necessary conversations with friends.
In our chat, Billy takes us through the following:
His experiences with stage fright and why it mainly only kicked in with smaller crowds
How he has progressed within his image
Communicating with audience
The balance between what you want to make and what others want to hear
His anxiety around auditions
His feelings around ending touring and beginning lockdown
Fighting labels to protect his musical identity
Why going independent made him successful
How to be happy while working flat out
His songwriting process
The struggles he has faced with substance use
The upsides of lockdown on psychological and physical health
The journey of recovery and its impact on his lifestyle and overall wellness
What steps he took to give up his bad habits
I hope you can take as much inspiration from his story as you will his music.
Command any room like a rockstar. Learn more about the Impactful Connection workshop.