How to get your girlfriend in the mood
July 9, 2018 - 8 minutes read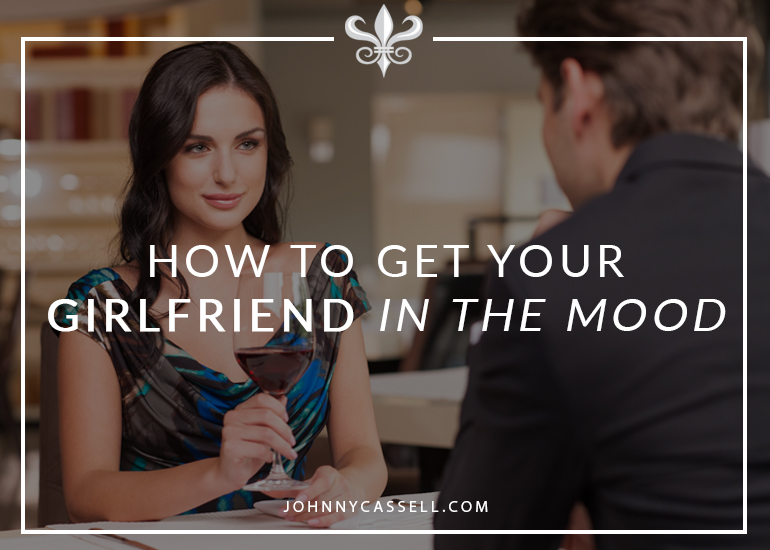 I want to use this post to address how to get your girlfriend in the mood.
I don't just coach guys like yourself on how to approach women in bars. I want people to be happy long-term. I'm also a relationship counsellor and can tell you that the work certainly does not finish after you've gone to bed for the first time.
Being in a committed relationship takes time and energy but also has to fit around a busy work schedule or social calendar.
That flirty electricity that brought you both together might start to filter out as the pressures of everyday life stack up, and the stakes of the relationship increase.
This article will show you the best ways to get your girl in the mood. While I'll be showing you how best to maintain an atmosphere of sensuality, the piece is also about preserving a sense of fun and spontaneity.
I will also walk you through one of the critical survival skills in any relationship – how to get your girlfriend out of a bad mood.
How to get your girlfriend in the mood
Whether you're trying to get some sexy shenanigans going or set the atmosphere for a date, it helps to know how to perk up a girl's mood.
If you're in a living situation with a partner, you'll have seen different sides to each other that it's perhaps easier to brush under the rug when you only meet a couple of times a week. Likewise, life can sometimes get so hectic when you're living apart that you both store up pressures in your time away from each other.
Focus on bringing a sense of fun and physicality to a low-lit, intimate atmosphere. Make sure your place is tasteful and equipped with mood lighting, and pick out a handful of bars that fit the bill for nights out.
At your place, you have far more control over how the room is set up, so learn how to host properly, be a gentleman, and be sure to maintain eye contact and smile. At hers, she'll already have the place set up in a way that makes her feel relaxed and at ease,
You should already be comfortable around each other, so it's just about keeping in mind why you think she's beautiful and being natural around her.
Things to say to girls: The power of compliments
Compliments go a long way towards making a girl feel great. Don't just give blanket "you look nice" pleasantries; concentrate on details.
"I love the way your dress drapes off your shoulder. It's so elegant."
"I just noticed how on-point your posture is."
"You have such structured cheekbones."
Observations like this are that much more poignant – the detail shows the authenticity of your statements, and she'll have a rush of sexiness and confidence.
The final point I'll make about getting your girl in the mood is to switch up the setting. I'm sure you'll have a favourite bar, but try out new places and make a point of going out. Go for spontaneous weekends away. Head out dancing, or watch live music or theatre together.
Set aside dedicated time for each other, but make sure it never becomes a matter of routine.
Saying all this, before you can successfully establish this kind of environment, it's important to attend to the basics before you put the scented candles.
How to cheer up a girl
If your girlfriend is in a bad mood, it's going to be a slog trying to get her to feel sexy and confident. You have to attend to her emotional needs first and foremost.
The primary element of cheering up a woman is listening. That doesn't mean waiting for her to finish talking so you can say your piece. That means genuinely caring about and absorbing what she says.
You must also never, ever try to fix their problem. Very often, your girlfriend will need someone to sit there with an arm around her and agree that it sucks. You should also not talk about your problems while she's describing her own.
Knowing that someone is there listening will get her far closer to feeling good and being responsive.
Both of you need space, however, and overcrowding each other will sap from the excitement of the relationship. Always make sure that both of you have different groups of friends and activities in which you're involved.
This scarcity will give you both more to talk about and also mean that you're independent, engaged people. You'll both feel happier and more confident as a result.
Staying on top of your own life also helps to maintain the intrigue your girlfriend would have felt at the outset of the relationship. It's why she's attracted to you, so don't lose it.
Help out
If you live with her, and she's complaining about clutter, take 20 minutes to put a few things away. Keep the washing up under control. If she complains that you've left beard hairs in the sink, take it on board. Take an active hand in making life a little easier for her.
You can always help out, even if you don't live with your girlfriend. You'll spend enough time at her place – offer to help out. Make dinner for the two of you.
These simple gestures don't seem particularly sexy, but you leave more space in her head for excitement by taking little tasks off her mind here and there.
These little gestures needn't be useful at all – they can merely be thoughtful. Bring over a chocolate bar you know she likes, or go for a walk to somewhere cool in town that makes you think of her. Show her a song you think she'll love. Demonstrate to her that you think about her where she's not there.
These are all little gestures that add up to a robust platform on which to add spark to your relationship.