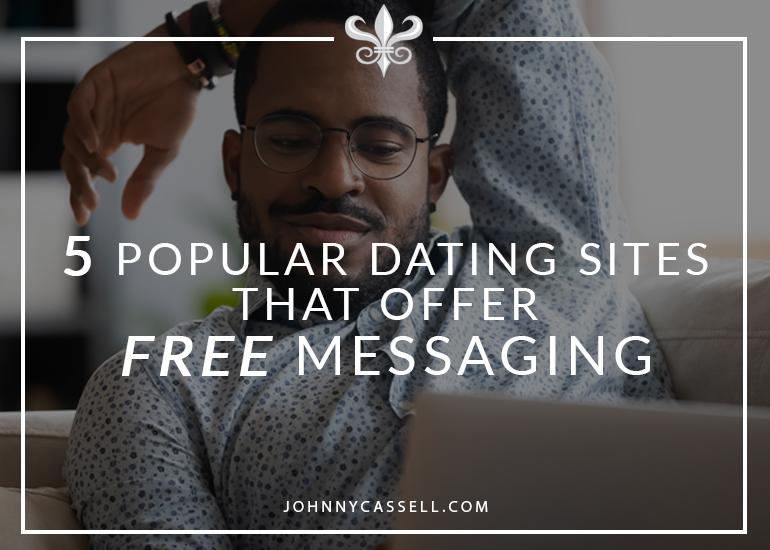 Many online dating platforms allow people to meet each other and make digital first impressions without charging a penny. Dating apps with free messaging are a risk-free way to dip your toe in the dating pool.
A considerable amount of human interaction takes place online nowadays, and dating is no exception. By 2019, Tinder alone has set up a pretty whopping 30 billion matches worldwide.
If you're looking to date and you're unsure about which route to take first, there's no harm at all in trying a dating app.
I've been helping people navigate the world of dating for 15 years. During that time, I've seen hundreds of couples meet on Tinder and go all the way to marriage. Setting up a compelling profile and testing the water is a great way to generate confidence when giving a good account of yourself.
These apps are incredibly useful and accessible. However, with free apps, there's no filter. Anyone and everyone can use them, meaning that your inbox is likely to be burdened with a wide range of time-wasters and unsuitable partners.
Joining a paid service like Match.com means that you get a better return on your time investment, even though you're spending money. In the long run, it may be more beneficial to sign up for a premium dating service if you're not time-rich and are using online dating to make connections.
Better still, get out there and instigate impactful conversations with women in social, fun environments. But if you're looking to wet your whistle in the world of free messaging apps, here are the best ones.
Tinder
Tinder has 10 million daily users in 190 countries. It is truly a behemoth of a dating site, and its iconic swiping system set up a new trend in rapid-fire selection systems for online dating.
The app does offer a premium service, which enhances the amounts of likes and exposure you get. However, you can still communicate with hundreds of potential partners through the app.
If you make your profile an immediate indicator of the aspects of your life that are engaging and demonstrate a sense of fun, you can still see ample success through the free side of the app.
Bumble
Bumble is a little more low-key than Tinder, with around half of its users.
It's an impressive concept, though. Women have to be the first to spark up a conversation, and if you don't reply within 24 hours, the dialogue closes. For same-sex couples, either can initiate contact, but the time window still applies.
This means that anyone you speak to on the app is either interested or interesting, which provides a fantastic return on the time you spend using the app compared to other free messaging platforms.
The downside is that you don't get into quite as many conversations – unless your profile is up to scratch.
Happn
Happn is an extremely nifty free app for those who've ever exchanged glances with another person on the Tube and wished they'd kicked off a conversation.
The app tracks your location using GPS. If you've been at the same spot another user visited, their profile becomes visible to you. Once you both like each other's profile, a conversation opens.
This free messaging platform allows you to narrow down your options to people you live near or who hang out in similar spots to you. You may already have seen them on the way to work and thought they were cute.
Common ground is a great way to kick off an interaction, so Happn breaks the ice for you. However, your success on the app is dependent on other people having in. You can't count on everyone attractive you pass having the app.
Sooner or later, you'll have to start facing those opportunities for conversation head-on and talking to people you find attractive.
OKCupid
This is a far more traditional dating service, based on profiles and messaging. Not a swipe or GPS tracker in sight.
The site uses an algorithm to recommend the most similar partners based on several profile questions it asks on signing up. Either partner can start a chat.
OkCupid may work better when thought of a beginner's dating site. There's a premium option, which adds more detail to your algorithm and, by definition, means that other people are also paying and taking online dating seriously.
There are more kinetic and fun options out there. Even so, it's worth giving a go.
Plenty of Fish
POF works similarly to OkCupid. It's been around for years and operates using an algorithm that pairs people up.
It has a broad user base of 3 million people, so there's plenty of opportunities to connect. However, this also means that competition is fierce, and the number of time-wasters is pretty immense.
Summary
Free dating sites work as a way to prime your approach and have fun, flirty conversations with strangers.
A premium online dating service might be a better way to optimize the hours you spend looking for romance on the Internet if you're a person without much time on their hands.
Better than all else, though, is the ability to make the most of thrilling encounters with beautiful strangers. Becoming a social magnet is the best dating app you can get. And talking to people is as free as it gets.
Those who need a way to boost their self-esteem should get in touch about my virtual Impactful Connection workshops.