How to Get a Girl on Tinder
September 26, 2016 - 8 minutes read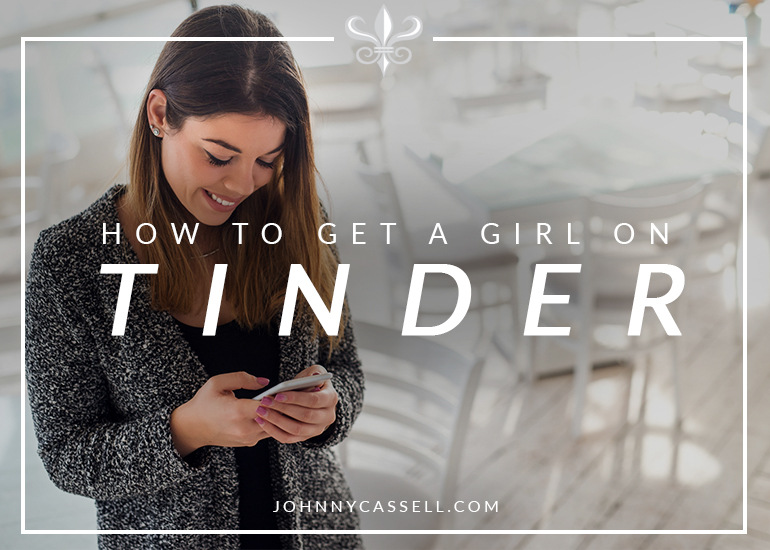 It seems like every year that a new app or seven get released to assist us in our social interactions with the opposite sex, but the go-to name for this craze is Tinder. How tinder works is a swipe-based ranking system of who you like the look of – swipe left on a girl's picture to reject, and right to connect with her. You will then appear on her list of potential encounters and if she swipes right on you, a conversation is then set up between you.
This conversation, not your photo, is the key to how to get laid on Tinder (but the photo definitely helps you, more on that later). Knowing what to say on Tinder can be the difference between the confidence boost gained from knowing a girl swiped yes for you and actually sleeping with her.
Here are the four steps as to how to hook up on Tinder.
Present your profile
Open then build comfort and rapport
Get her number and take the encounter offline
Call her to arrange your date
PRESENT AND OPEN
How to start a text conversation with a girl on Tinder is simple: your picture has to look the part. The online world is pretty permanent and very broad and in any walk of interacting with others from behind a screen you have to give the world the best show of yourself that you can. You need to treat it exactly the same when thinking how to talk to girls on Tinder – she's an end user and you are communicating with her. Grab her attention. Brand yourself how any business would – you're far from a monopoly in the world of Tinder.
Choose a picture that's flattering and interesting. Maybe you can exhibit how you like to travel by choosing a avatar set somewhere exotic or different you visited. Maybe you play guitar, and there's pictures of you performing. Perhaps you are a fitness freak – choose an image that shows off your physique. If you show you're proud of your brand, she'll be thinking of dirty pick up lines to say to guys in order to talk to you.
Women vary between two types of guy in their lives at different stages – risky guys'(where if they invest they may lose everything) and secure guys who are long-term, emotionally intelligent investments that will last for a while.
Sell yourself as one or the other, but don't be a showboat. Topless pictures are largely filed under 'douchebag' even if you look like an iron croissant on legs, if no-one reserved tickets for the gun show then you're in for an empty audience. Wear a snug t-shirt and they'll be able to smell your abs through it. Likewise, if you have an affluent lifestyle that could make a girl feel secure, don't flash your cash – demonstrate it subtle ways like a tasteful, top-end watch or a classy backdrop.
Like it or not, pictures are conversation starters for girls and a first impression is a key factor in how to start talking to a girl on or offline.
OPENER + CREATING COMFORT
Tinder opening lines have to show that you've noticed something about her and be inviting and charming. Here are a couple of Tinder lines that work.
Look to pick something out of the picture/bio and comment on it..

"Oh, you're a cat person – are we about to have an argument?"
Or inject humour into the situation of how you have met e.g.
"What are we going to tell our parents how we met?"
As you can see above, I tend to use a funny, light-hearted approach as it can be a great springboard into a relaxed rapport, as well as teetering the other way into flirting with minimal effort. There's not quite as much pressure on women to think of funny pick up lines to use on guys, but you always notice when a girl is funny. It works that way for women too.
Tinder has a very high turnover, and she will have more than enough 'hey beb' and 'u ht beb netflux an chil?' to thumb into oblivion so stand out. Consciously set out to think what others would be doing, avoid it, and customise your opener based on her picture. You will have Tinder opening lines down better than 90% of the backwash she will have waded through to get to you.
Good conversation starters with girls often point to a good conversation, and you simply need to remember to have fun. And good conversation takes you to…
GET. HER. NUMBER.
Unless you want to do wonders for the stock price of Kleenex, you're going to want to move out of the internet as fast as you can. The best Tinder pickups don't stay on Tinder for long.
The only feasible way to do this is getting her number – she needs to see who you really are, and that you have the confidence to pick up a phone. Some of the best conversation starters for texting outside the internet are…
"I just realised something.. I can't find your number in my phone…"
or
"Do you text?" (yes) "Great, what's your number"
or
"We've known each other for long enough now, why aren't we flirting with each other in person"
Or
" I just realised something… I haven't heard your voice, which is unusual for someone that I feel close to."
CALL HER TO ARRANGE A DATE
The rest is pretty simple – launch into the call cheerfully and take the lead on suggesting a time and place. Once you've moved the conversation out of The Matrix, it gets a whole lot more real, and that's different advice for a different article.
For more information on boosting your confidence and success with women, click here for information on my 7 Day Course.