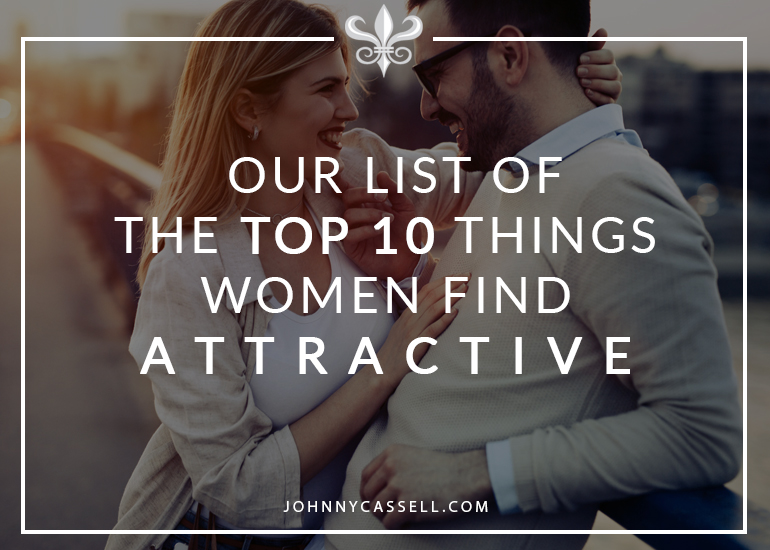 If you find yourself misfiring with girls in social situations, you might need to ask yourself: what do girls find attractive? What is it about our actions that mark us out as a great potential partner?
If you're thinking a chiselled jawline or loads of money… well, yes, they do find those attractive too.
But there are things anyone in any situation can do to hit more points of attraction and make those first impressions far more impactful.
Here's an essential list of 10 things women find attractive.
CONFIDENCE
Confidence should be at the top of any list of what women find sexy.
The ability to interact with people assuredly, and being animated while you talk, is desirable to women.
Confidence is shown through strong, upright posture, speaking from the diaphragm, and being positive while you talk.
Some of my clients aren't the most naturally attractive people in the world, but once they pick up confidence, they see a world of difference in their rates of success.
GOOD PRESENTATION
One way to stoke attraction in a woman is to focus on your personal branding.
If your clothes say you don't care about how you look, is that in a good way or a bad way? Are you in the best shape you can be? Does your hair suggest you're trying to look younger than you are?
These are all things you need to consider. Make sure you're wearing simple, tasteful, flattering clothes. If you struggle with clothes shopping, as some men do, take a female friend or relative out with you.
If you're confident, body shape shouldn't be a factor. However, women find a man who looks after his body incredibly sexy.
It takes 12 weeks to get in shape, and you can do it from YouTube instructional videos if you can't afford a gym membership.
HUMOUR
Women find humour sexy. The ability to make a girl laugh, and make her feel good, is key is striking up great rapport
Laughing and joking is also a very easy segue into flirting.
Make sure you listen to her and find fun and humour in her story.
LISTENING
The ability to listen and respond to what a girl is saying, and showing genuine interest, is one of the easiest ways to become the answer to "what do women find attractive in men?"
Listening is a great way to sniff out common ground between you and use it to build a connection.
Social engineering is an attractive quality in a man, and listening is the way to lay the foundation for that.
LEADING
What women find attractive is a man who knows what he wants.
Leading the conversation – not dominating the dialogue, just deciding the course of your interaction – is key to demonstrating that you can lead.
Also, scene-switching and leading her to different rooms or even venues is a great way to show that you know what you want and you're not afraid to go after it.
DIRECTNESS
It's a big part of leading, but laying out your intentions at the gate and being completely transparent about the fact you like a woman is supremely attractive.
Being direct with a woman reflects on your attitude to the rest of your life. She wants to see that you'd go after a business deal, a job opportunity, or a try in rugby the way you're going after her.
AIR OF SUCCESS
Social positioning is important is establishing attraction. You have to give off an air of success, at least on your terms.
That means abandoning the negative narrative in your head and setting yourself small targets to succeed at during the day.
These build to the bigger successes, and you can use the confidence from all of them to fuel your aura of success.
POSITIVITY
A man who loves life, and lives it to the fullest, is fun to be around, and he makes women feel great about themselves.
Be that guy. If you find yourself to be quite a negative person, then start spending more time doing what you love. Get curious about the world again. Say yes to more invitations and opportunities.
It will not only do wonders for you, but also for how women view you when you walk in a room.
TALKING TO OTHER WOMEN
It sounds like a bad joke, but of the best-proven ways to spark a woman's attraction is to prove you can speak to any other woman in the room and enjoy yourself.
It's the same way you get a cat's attention.
Talking to other women also shows that you can move with the social flow, and are the glue that's holding the party together.
BASIC CHARM AND COURTESY
A woman wants a man who's unafraid to tell her she's beautiful, get her coat for her, respect her boundaries, and interact with her as a human being on a genuine level.
The number of men switching on the charm but who are clearly just after sex makes it much easier for you to stand out just by being nice, genuine, generous, and polite.
You can still be direct, and carry yourself well, without being smug about it.
Confidence alone will feed a lot of the other factors. If you want to take those extra steps to strong core confidence, get in touch at www.johnnycassell.com/.
Related Content
https://www.johnnycassell.com/uncategorized/how-to-attract-a-woman-five-easy-lessons
https://www.johnnycassell.com/effective-communication/top-tips-to-build-self-esteem
https://www.johnnycassell.com/mindset/5-tips-for-developing-your-core-confidence