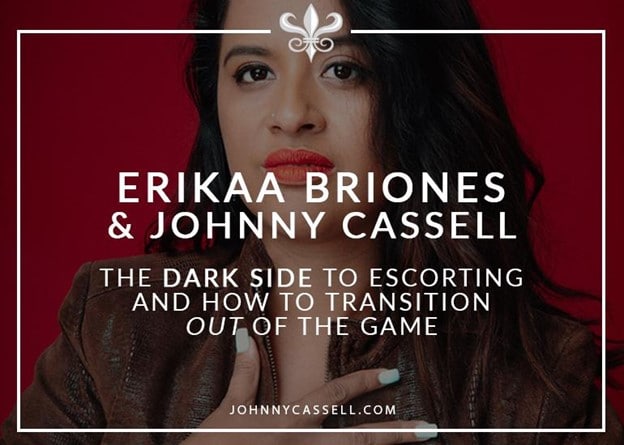 Trigger warning: This episode of the podcast is a frank, open, and honest discussion of child abuse and similar topics. Some listeners may find this upsetting – but I do hope you find solace in a poignant story about recovery and helping others.
I was honoured to have an extremely brave and powerful guest on the podcast this week.
Erikaa Briones has an inspiring story of redemption and healing others. She has been vocal about her history of child abuse, her time working as an escort, and her transition into a career as a practitioner specialising in emotional clearing.
This inspiring individual provided a deep level of insight throughout this discussion. I'm delighted to have explored a wide range of topics with her and allowed her to share her harrowing story to spark hope in others,
Who is Erikaa Briones?
Erikaa is an emotional clearing practitioner of the Spiral. This is a holistic psychological process that incorporates kinesiology, the Chakra system (familiar to people who do yoga), and several other frameworks for self-betterment that help people clear emotional blocks from their lives.
The Spiral also helps people free themselves from the bondage of lacking sexual confidence. Erikaa shows creative people and entrepreneurs how to direct their sexual energy in a way that has an impact in both the bedroom and the boardroom.
Erikaa's life resembles a Wizard-of-Oz-esque quest for the truth, on which she meets various characters along her path – some villains, naturally, but also those who support her self-discovery process. For Erikaa, this journey was all about liberating her sexuality and healing from her traumas.
She now hopes to inspire other women to thrive in their sexuality. Erikaa finds joy in speaking on a variety of syndicated podcasts and guiding people along the path to conscious love and sexuality
Episode highlights
This episode goes to dark places, but I felt privileged that Erikaa sat down with me and allowed my listeners to learn about her life.
How does one prepare for the receiving and giving of love after experiencing deep trauma or stressful experiences? With Erikaa, I discuss how to reframe adverse events as positive ones to help you move on from toxic people. This does, sometimes, include those close to us, as well as family.
How does a person recondition and sensitise themselves after harm occurs? After identifying with their traumatic past for so long, how can an individual find a new identity that is more constructive for their next chapter? And what does a world look free from jealousy, anger, and envy look like? We also discuss whether these emotions have a role to play in self-development.
Erikaa drills down on a range of topics, including:
Living life as an escort
Recovering from abuse during her childhood
Coping with depression
Why "Like you" by Adele was her anthem
The reason she got into escorting
How she knew she had to get out of the game
The perceptions of escorts on men
The type of men who use escort services?
How a sex worker can condition themselves to give and receive love
How to transition from any industry into a new identity
Dating while being an escort
How to get out of escorting, including the essential questions to ask yourself before leaving the game
Life after escorting
How to recover from your addiction to the lifestyle
Emotional clearing – What is it, and how can it help you?
How, to deal with jealousy and anger
And much more.
Tune in every Tuesday on my Instagram account @LondonDatingCoach. I run an AMA and invite to my show fascinating guests for inspiration and guidance.