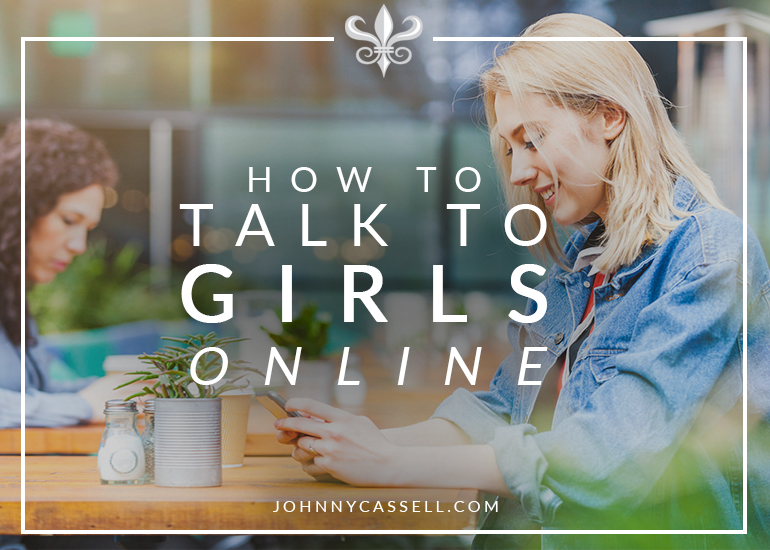 Learn How to talk to girls online
In an ever-expanding digital world, it's not only important to know how to talk to girls, but how to talk to girls online.
Online approaches can serve as an excellent buffer if you need to warm up social encounters before face to face contact, but the basics of how to talk to women still apply.
MAKE SURE YOUR PROFILE SHOWS OFF YOUR BEST SIDE
Make sure your profile (on any website) is a standalone advertisement for all things relevant to you.
Choose a flattering but accurate picture, highlight interesting parts of your personality, and avoid bragging without shying away from what makes you great.
CHOOSE YOUR PLATFORM CAREFULLY
If you're planning to cast your net wide, you're better off using something like Tinder where the approval process is based on looks and snap decisions.
If you want to approach someone you know through a friend, maybe a more relaxed approach on Facebook is advisable.
FLIRTING IS FINE.
The online arena can be great practice if your face-face game needs some work.
A tasteful amount of emojis make it easy to induce an atmosphere of fun if you are bold with chat-up lines.
FUN IS KEY AND GETTING TOO HEAVY IS A BONA-FIDE NO.
It's a great medium to practice more outrageous approaches in a safe space.
Getting to know someone can be rewarding but arduous, so when mulling over what to talk about with a girl you like, save the heavy lifting for the next stages where you are hanging out or going on dates.
Approaching on online platforms is a gateway to you, so enjoy yourself.
WHAT TO TALK ABOUT
Would you read a mailshot if it was like every mailshot you ever received?
If you are considering how to talk to a girl you like on something like Tinder, they'll be getting approached every five seconds by desperate, lecherous bores. Be different.
Open with a non-sequitur, ask them a specific question that will make them curious, or notice something interesting about their picture/profile and comment on it.
Don't think about it as 'things to talk about with a girl.' Think of it as mucking about on the internet.
You'll have even more points of reference on the likes of Facebook or Twitter. Tailor your style to the girl you're approaching.
Don't overthink about what to say to a girl you like. You're online having fun. they just happen to be part of the party.
ALWAYS TREAT YOUR ONLINE CONVERSATION AS A STEPPING STONE TO A FACE-TO-FACE ENCOUNTER
The internet can be a scary, misleading place, but if you make your intentions clear, you don't have to figure out which topics to talk about with a girl for too long before arranging a meet-up.
If you have some great ideas for dates, throw them her way and suggest meeting up. The great thing about this is much of the pressure of a first impression will have been removed if you gave an authentic portrayal of yourself online.
Online interaction isn't so much about what to talk about with a girl you like, but more how to talk to a girl you like.
Tinder-esque apps make streamlining your approach easy. Ramp up the numbers of approaches and you will start to see results. How to approach a girl does not change if you are behind a computer screen.
BE TRUTHFUL
Giving a false impression of who you are will only be shown up if the connection escalates to the next stage.
Online interaction is a means to an end. My 7 Day Course is not just about getting you into a conversation with a girl, but mastering who you are so this connection translates to something more.
Think about how to approach a girl in person. They will see through any posturing. The same goes for your online persona.
DON'T BE AFRAID
Part of the fun of talking to people online is you can really manage what you are going to say before you say it. Be confident and outrageous. Try out lines, ploys, ideas and even mild pranks or wind-ups that can snare attention in an inventive way.
The worst that can happen is a refusal and a block from someone you don't even know. The best is a fun, interesting conversation that can lead to a rewarding real-life interaction.
AVOID BEING TOO PERSISTENT, AGGRESSIVE, OR CREEPY.
If they don't reply, move on to another girl. Being needy is one of the biggest turnoffs in face-to-face encounters. In an arena where the only goal is making a powerful impression to create momentum for the next steps, being needy will get you shut down immediately. You will just succeed in making your woman feel intimidated and vulnerable.
Get online, get chatting, be positive and proactive, and get phone numbers
Related Content
https://www.johnnycassell.com/attraction-skills/how-to-talk-to-girls
https://www.johnnycassell.com/attraction-skills/how-to-talk-dirty-to-a-girl
https://www.johnnycassell.com/attraction-skills/charming-women-with-humour