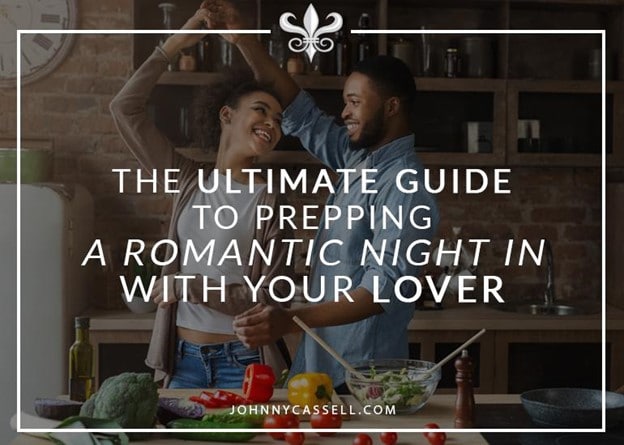 There isn't a couple on the planet that doesn't benefit cosy evenings in.
Once you're past the initial honeymoon period of a relationship, it can stop being quite so easy to recapture the spark of when you first met. However, love thrives on those special moments, but they're hardly out of reach – they simply require a little more thought and effort.
Be it work, the pressures of life, or simply the passing of time, a night dedicated to just the two of you can be an absolute tonic. It isn't only great for keeping your sex life in tip-top condition, but it's also nourishing for your soul. Why shouldn't you spend quality time with your ideal person?
And if sex is on your mind, it's largely going to come from warm ambience, a relaxed atmosphere, and a man who knows how to lead and interact.
Lockdown means that going out for fun times isn't the automatic given it has always been. I'm going to run down some of the best elements of a night in with your partner.
The prep
If you're living with your partner already or have been going steady for a while, spontaneity isn't the most important thing – care and thought are.
You don't have to spend a ridiculous amount of money. You just have to know your partner well enough to put into place what makes them tick.
The trick is making the evening relaxing, stress-free, and intimate. She should see her time with you as a haven. So make sure your house is spick and span – get a cleaner in if you have work during the day. It should look, feel, and smell great – as should you.
I tell all of my students that grooming is incredibly important, so even if it's a casual night in, make sure you've gone to some effort to demonstrate that it's not just another night in your jogging bottoms. As you've not got the excitement of a change in scenery, you have to become the change in scenery.
 Get a good haircut at lunch, throw on one of your best shirts, and be sure to take her coat at the door and treat her like a lady.
It might be good to plan a few days in advance – maybe you can get a masseuse in for the two of you, or book a musician you both love to play an intimate set in your living room.
This also creates a beautiful contrast with the big, extravagant nights out and celebrations that seem designed to stick in the memory. These nights stay with you in different ways.
Nights at home
I love nights out on the town, but if you're dating someone, you should be able to stay in and bask in each others' company without feeling a compulsion to go out and be glitzy.
Make her dinner
 Filling her belly is the way to filling her heart. If you want to order in, then do – plenty of services are out there that can deliver gourmet meals to you, and not all takeaway food is junk food.
However, you become a real winner when you can cook an amazing meal for your partner. The great thing about this is that if you live with your partner, you can pull off great food every night. Therefore, you've always got the platform for a satisfying night in, should you choose to have some alone time.
A slow dance or mini-festival
 Sometimes, your partner just wants you to hold them and sway. So do exactly that. Put on slow, romantic music – either tunes you both already know and love or chilled out, ambient background music – and slow dance like you're at a school disco (without the awkwardness).
Some couples like to have a livelier session. If you've had gigs or festivals cancelled over quarantine, why not put together a playlist of your favourite songs by the acts you wanted to see and have a huge, cathartic party between the two of you?
Why not even get dressed up in wellies and glitter? You should be able to dance with your partner like no-one's watching.
Sit by the fire
Whether you've got a fireplace or set up a fire pit in the back garden, a night eating strawberries and chocolate together while playing games and talking sounds ideal.
The warmth you feel from the fire should reflect the warmth you feel in each others' company, plus the glow it gives off sets a great ambience for 'together time'.
Wine and cheese
 All the fanciness of the French Riviera, just in your living room.
Get some fancy cheeses from Waitrose or your local posh cheesery, bag yourself some more upmarket wines (maybe ask some wino friends for recommendations if you're not much of a wine drinker), and whip out the jazz classics.
You should both absolutely dress the part and set up some card games or similar to play after dinner..
Stick on a romantic movie
Sometimes, you just need a cuddle, a laugh, and a cry.
Better towards the end of a night when you're winding down, take her lead on romantic movies she loves and hold her the whole time. Whether it's The Notebook, When Harry Met Sally, or Casablanca, the point is that you're together, sharing the same experience.
Maybe it's not usually your bag, but put your preferences to one side and hold her throughout.
Go camping in the garden
What better way to end a night in than having set up a tent or teepee in the garden to spend time under the stars?
If you aren't really a dab hand with camping, get a mate to help you set up during the day. Maybe get a fire going or barbecue some food outside if the weather holds up.
This just shows you can think outside the box as well as the house.
Takeaway
True love is finding someone to do nothing with and have it still feel like you've just been to the biggest party of your life.
It's about laughter, tenderness, and the small moments. And physical romance will naturally develop once you have those elements in place.
To learn more about getting seduction right, take an Impactful Connection workshop and change your life today.