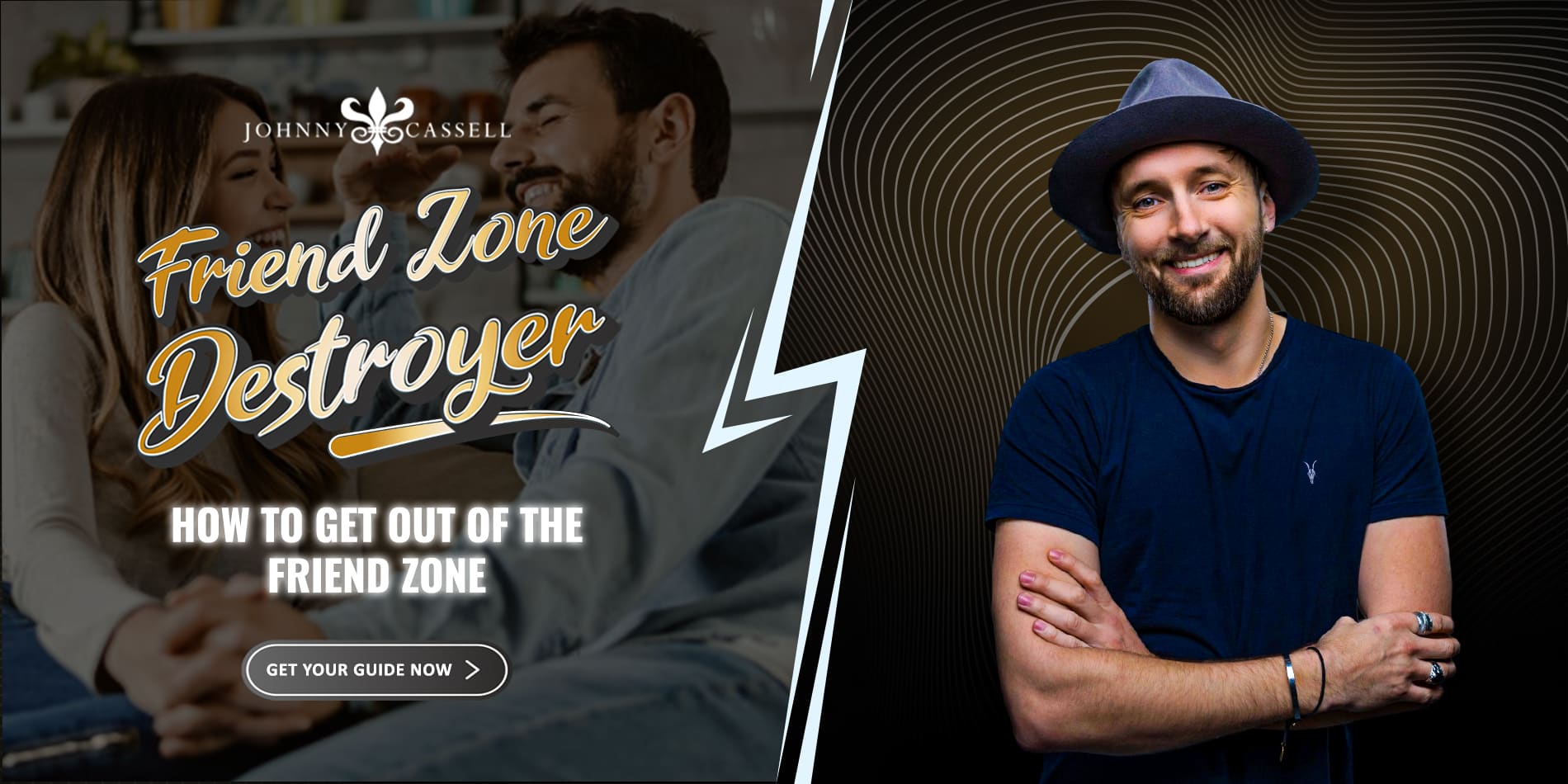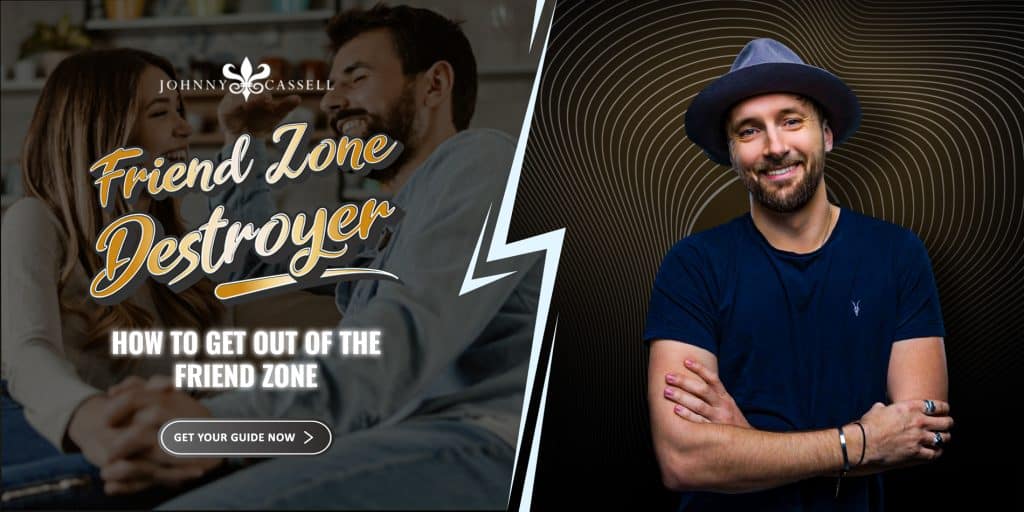 Are we just friends, or do we have something deeper? And do you feel the same way about me as I do you?
They're important questions to ask, both of yourself and of whomever you see in a romantic light.
Men often find themselves in a grey area. They don't know precisely how a woman perceives them, and they're in too deep to raise their true feelings in conversation. People sometimes refer to this as the friend zone.
However, the reality is different. The friend zone is not somewhere a woman has "put you. It is a state of mind that you can exit any time you want.
Guys who have this mentality tend to develop it for one reason: To stay close to a woman despite not communicating their sexual intent clearly enough. Friendship is lovely and a real asset in a balanced life. But if it develops at cross purposes, is it a friendship?
Both of you deserve better. I'll walk you through seven steps that can help you redefine your relationship.
WHY AM I IN THE FRIEND ZONE?
---
People in what they see as the friend zone are there for one of three reasons:
They met a girl and didn't signal any attraction. The man in question didn't lead the interaction to a place that stimulated sexual feelings.
The man signalled attraction but received feedback that the woman they desire does not have similar feelings. Regardless, they stayed in contact and built a friendship in the hope that they could escalate further down the line.
They developed romantic feelings towards one of their friends and felt uncomfortable communicating that desire in light of their current boundaries.
In all cases, the sticking point is communication. Without letting a woman know how you perceive your relationship and drawing firm lines in the sand if her feelings aren't reciprocal, you'll end up in limbo.
It can hurt, too. You'll probably find out about your friend's hook-ups with other guys, which can generate jealousy and resentment. The pain and awkwardness are avoidable if you're upfront and proactive from your first interaction onwards.
1. FIGURE OUT EXACTLY WHERE YOU ARE IN THE RELATIONSHIP AND GO FROM THERE
---
Do you know what the woman you'd like to date wants from her relationship with you? Does she see you in a sexual light? And did you let her know you thought she was attractive when you met?
If not, maybe it's time to re-think how you communicate your desires and boundaries in the relationship. Be clear and be open. Lead, but don't mislead.
It can be a little tricky to figure out exactly where you stand as a man these days. Are you the man you want to be? How about the man that SHE wants you to be? And have you ever asked yourself, crucially, whether these two are the same man?
I find the definition of a 'friend zone' a little self-perpetuating. Calling it a 'zone' of some kind suggests that there's a barrier to your exit.
It also suggests that she's confining you there out of spite, whereas it's more likely that she didn't know how you felt and framed your relationship as non-sexual accordingly.
The idea of the 'friend zone' reflects the importance of clear communication. You have to be able to assert desire while understanding what you both want to get out of the time you invest in one another.
2. UNDERSTAND THAT NOT BEING FRIENDS WON'T GUARANTEE A ROMANTIC RELATIONSHIP.
---
If the two of you have incompatible desired outcomes from the time you spend together, there may be no recourse but to split. That's okay. You'll meet someone else. How soon all depends on how social you are and how many positive interactions you have with people.
You may part ways because you want a romantic relationship, and she doesn't. At least you can do so on fair and honest terms. You'll have wasted neither her time nor your own.
3. FIND OUT WHAT YOU COULD HAVE DONE DIFFERENTLY.
---
If you allow yourself to be truthful and vulnerable with the girl you like, your display of vulnerability is also likely to inspire frank discussion and openness on her part.
This means being clear about your feelings, even if they don't align with hers.
Maybe she'll let you know what to improve so that you can reassess your approach, learn, and adapt. It may be a helping hand on the journey to the best version of yourself. And it could help you land your dream girl.
4. IF YOU'RE NOT OKAY WITH BEING JUST FRIENDS, DON'T PRETEND THAT YOU ARE.
---
Pretending to be content with friendship when sex in on your mind is deceptive and disrespectful. It does neither of you any favours.
By creating the pretence of normality, you're neither respecting boundaries nor gaining any of the sexual experience and excitement you want. It's a Catch-22, and one you can easily avoid through straightforward communication from the outset.
Learning how to navigate a woman's desires can help you lead the encounter towards romance on even, realistic, and open terms.
5. SHOW YOUR FRIEND THAT YOU ARE A PROVIDER.
---
It does not mean the same thing to be a provider that it did 50 years ago.
An increasing number of women are finding success in previously male-dominated aspects of life, especially the workplace. The idea of "man as breadwinner" diminishes year-on-year.
Stability is an attractive quality in a long-term partner, and men still have a duty to provide for women, but in emotional, sexual, and lifestyle terms.
If the girl you like sees that you drive the social energy in a room, she'll start to reframe you in a light that encompasses romantic involvement.
This is especially powerful if you've fallen for a girl who's already a friend. She'll be encouraged to reconsider your standing in her life when she sees your powerful impact on a group of people.
Friendship is a critical component of more intimate sexual and romantic relationships. However, unless you demonstrate other qualities that stimulate attraction, it'll be the driving force of your connection until you show her you can be more.
6. STATE YOUR INTENTIONS CLEARLY.
---
Practice boldness, clarity, and honesty when communicating your desires demonstrates that you recognise your worth as a man. This means that you act in line with your values and show no hesitation in pursuing your goals to get what you deserve.
Confidence should drive your approach, and emotional intelligence needs to provide the foundation upon which you absorb her responses and take action. Once you know what she wants, you can show you're capable of delivering it.
Maybe she does see you as just a friend. You might have been too sweet, too hesitant, too slow, or simply not her type. She may well be interested, but with a focus on slowly crafting a relationship based on trust, openness, and friendship.
Her culture, upbringing, or romantic history might also be presenting barriers to the sexual reshaping of your relationship. Whatever the reason, you'll never know if you aren't upfront with her.
It needn't be a heavy conversation. You can keep it light and playful without skirting around your intentions. Flirting will be more powerfully suggestive than a dump of emotions and obligations.
'So, now that we've hung out a couple of times and I'm pretty sure you're not a serial killer, when's good for me to take you out on a real date?'
7. UNDERSTAND THAT WHATEVER ANSWER YOUR FRIEND GIVES YOU IS RIGHT AND MOVE FORWARD.
---
Accept the answer she gives you with a mindset of forward-thinking positivity.
If she feels the same way, schedule a more intimate hangout and start making plans. It will give you plenty to discuss. The mood might be right to take things a step further.
Go in for a kiss, or ask if she might like to come back to yours for a drink and a movie.
If she's not interested, that's fine. She has no obligation to return your feelings. People with strong core confidence can bounce from these moments, maintain their social energy, and move into an exciting conversation with another interesting, beautiful woman.
She still spent her time with you, and that counts for something. If you enjoy her company, you could pursue a friendship with her while continuing to date other people. Great people are great people. Keep them around. Just do so on open and honest terms.
If you'd rather spend that time focussing exclusively on dating, that's fine. Tell her.
You're not obliged to be her friend any more than she's compelled to want to date you.
Be kind and sincere in letting her know friendship isn't what you had in mind, in line with the treatment you'd expect for yourself.
Directness is a powerful connector in business relationships, friends, family, and everyday interactions with strangers and service people. Learn to master it.
It is possible to show respect while stating what you want from a situation and exude confidence without becoming arrogant.
THE TAKEAWAY
---
A positive, bold attitude to interactions with women will make showing your intent and instinct.
With core confidence as part of your demeanour, you'll no longer fear the 'friend zone'. You'll simply let the girls you find attractive know you feel that way.
And if they don't feel the same, at least you won't be keeping them around on false pretences. Instead, you'll wish them well and dive headlong into your next thrilling interaction.
I've helped thousands of men develop core confidence. Find out how you can improve your self-esteem through my virtual Impactful Connections workshop.