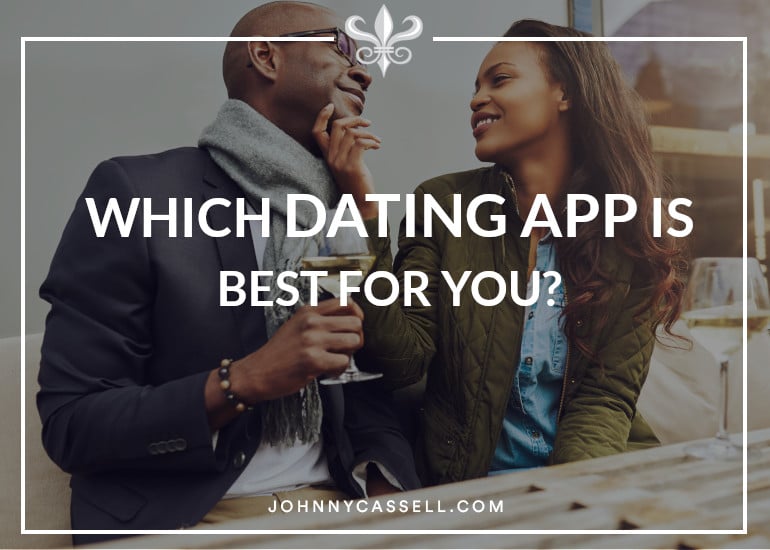 Online dating has been steadily growing in popularity for the last decade, losing much of the stigma associated with it.
Research by dating site eHarmony and the Imperial College Business School suggests 32% of relationships that started between 2015 and 2019 did so online. It also purported that by the year 2035, more than 50% of relationships will be started online.
In the current climate of social distancing and Zoom calls, online dating has become even more important.
Not only that, but we're starting to see a lot more of video dating. This is something we'll get into a bit more later on in the post – including an app on which I feature as an online dating expert.
Dating may never be the same again.
For many, dating apps and websites are left as the only choice for men looking to make a connection. The only problem is that we are now swamped with choice. So how do you decide which dating app is best?
Let's take a look at some of the most popular dating apps - and some you may not have heard of – to help you decide which one is right for you.
Don't forget - the best thing is that most of these dating sites are free!
Tinder
---
We're all familiar with Tinder. Initially created as an easy way for people to hook-up, many users also find something more meaningful and long term.
Its swiping mechanic allows you to quickly sift through many pics of women in one sitting. This can be good or bad – you waste no time in finding somebody you find physically attractive, but could be missing out on somebody you share a lot in common with.
Although users do have a profile and can write about themselves, most people I know who use it rarely read it and only do so if they like what they see and want to know more.
I always teach my students to visualise their dream girl to help them easily aim for that objective, so for me the 'swipe' mechanic gets a thumbs up.
Don't worry about getting lots of matches – in fact if you are, something's wrong. You're not a mass market product.  Visualise that dream girl and keep them in mind, only swiping right on a girl who meets your specific criteria.
If you're looking for a quick one-off, maybe to help practice your dating for when the time is right for you to meet the One, Tinder is a good shout.
Plenty of fish
---
A Canadian-run dating app, POF has a user base of 3 million, over 50% of which are under 36 years old. If you're a younger male looking for lots of choice, this may be of interest to you.
You can search for potential partners via your favourite traits. I tell my students to have a clear image in mind of the kind of woman they want, so this is a really helpful tool to let you narrow your search and only initiate contact with women you're going to want to connect with.
There's a bit more focus on longer-term commitment, with marriage potentially in mind. On the website, you can see many married couples who found each other on POF.
POF is perfect if you're wanting to try a dating app for the first time. With it being free, you've nothing to lose.
Inner Circle
---
Inner Circle is another one with a waiting list, which is a good sign. They don't just let anyone in here, which means that your options are all of the highest pedigree.
Unlike many other apps, Inner Circle forces you to put down the phone and meet up in person for a date. They're serious about getting people together for real. If you're stuck for ideas of where to go on a date in a pandemic, look no further.
They have regular, offline events all over the world, where members can meet up in person.
Profiles are checked for their validity and the emphasis is placed on real connections with real people.
The idea is to save its users time wading through endless profiles with swipes of left and right. Though the subscription is a hefty $10 a week, in my opinion it's worth it. You won't be paying that subscription for long before you find someone and make a connection.
This is a great app for anyone who really craves that personal interaction, or feels text and video calls are too impersonal.
Facebook Dating
---
Facebook is as ubiquitous as ever. After branching out to compete with the likes of eBay with their no-fee Marketplace, it was only a matter of time before they ventured into the realm of dating.
Your Facebook Dating profile is kept completely separate from your original Facebook profile, so you can be sure of complete privacy.
There's an interesting integrated feature that lets you meet people going to the same events you're going to, or who are a member of the same Groups as you are.
I've previously talked about how to compile the perfect dating profile, and Facebook really allows you to go to town. Whereas other apps are focused on photos with a short description, this really allows you to display your likes, dislikes, and what you like to do. Not just in text either, but in the tangible form of groups and pages that potential partners can peruse at their leisure to really get a feel for your personality.
Facebook Dating is easily accessible, free, and easy to use. Anybody can use it, but that also means you may have to do a bit more searching before you find what you're looking for.
For first time daters or those that feel like it's important for their partner to be into the same things as them, Facebook Dating is a great choice.
Bumble
---
As some of us may be aware, Bumble lets women take charge and be the one to initiate interactions. This can help if you're the kind of guy to not know how to start a conversation. If that's you, you may want some ideas for opening a conversation.
About 80% of matches result in a date. Most dating apps have a high rate of success, but Bumble is one of the highest.
They also have a mode for creating business connections and even one for finding non-romantic relationships with people who love the same things as you.
The swiping mechanic on Bumble is rather simplistic. Like many other apps, it's photo-based, with the option to see more if you like what you see.
Despite this, Bumble doesn't have a reputation as a hook-up app, so I can recommend it for anyone who is looking for something more serious. On your profile you have the option of displaying what you're looking for, but in my experience most profiles will say they're only interested in relationships.
The app can connect with your Facebook and Instagram, so there's no need to worry about catfishing and you can have a deeper look if you're really interested in somebody.
I'd recommend Bumble to somebody looking for a more serious relationship and doesn't mind letting women lead the charge.
Hinge
---
Hinge is an American-made app that users of Tinder will be familiar with. It uses a similar swiping system with a more robust, in-depth matching system with questions about things like your education, whether you smoke or do drugs, and your political leaning.
The first obstacle to creating an impactful connection with a woman is finding that connection – whether its hobbys, beliefs, likes and dislikes – and Hinge offers multiple questions to filter out the people you likely won't connect with. This gets you a much better return on your time.
Profiles can be arranged quite creatively with prompt questions such as 'Biggest risk I've ever taken', 'A special talent of mine', or 'Let's make sure we're on the same page about…'
Users can even link these prompt with photos or videos.
This really allows you to see somebody's personality and tell whether you'll be able to connect with them or not.
Roughly 90% of matches on Hinge end in a date, which shows you how successful its methodology is.
Hinge is for people who are looking for a serious relationship with a high success rate.
Unavine  
---
This one is a bit special to me. I actually feature on this site as an online dating expert.
Unavine has video-based profiles, and a huge library of dating advice and relationship coaching.
There are live webinars and Q&As, which is something I can really get behind as a dating coach. If you're more interested in this kind of coaching and want to learn more without having to join this dating site, check out my own 1 on 1 coaching sessions which I provide on Skype, Whatsapp and more.
Their style makes it impossible to be a victim of cat-fishing and help you be the best you can be, while helping you find the best one for you.
If you're worried about catfishing and time wasters, and want access to valuable video content, this is the one for you.
Raya
---
This one is a bit different to the others I've talked about so far. I put it here because many of my clients come from an elite background.
Users must be invited by an existing member, and then approved by a committee with an acceptance rate of about 8%. While the others I've talked about so far are free, membership to Raya is $7.99 a month. In my opinion, it's worth it.
Notable members having been spotted include Emma Watson, Sharon Stone, Lily Allen, Demi Lovato, and Cara Delavigne.
More than just a dating app, Raya is full of powerful networking possibilities, especially in the entertainment industry.
As a dating coach, I can be out for extended periods at a time or surrounded by beautiful women. A potential girlfriend can be put off by my lifestyle, and many celebrities have unique struggles to overcome when it comes to dating.
This app provides an answer to some of those. Dating someone on the same page as you means they likely won't have a problem with extended periods of absence for work. Some not involved in the industry may even get jealous at sex scenes or the fear of sexual competition.
If you're interested in a more elite, professional dating experience, then Raya may be for you.
So which dating app is best for you?
---
This depends on your age, experience, and budget. Generally, I would say if you're new to dating and just want to dip in your toe, try Facebok Dating for its ease of access.
If you're looking for a casual free dating app that's got proven clout, try Tinder.
If you like the idea of Tinder but want something a bit more serious, then it's Hinge for you.
For young men looking for lots of choice, Plenty of Fish is a good bet.
For the elite among us, Raya is for you.
Inner Circle is a great dating app for those that don't like the idea of dating apps.
I can recommend Unavine to anyone who wants access to extra content as well as the dating app itself.
Bumble is for those of us who want to empower women by letting them take the first step.
Whichever app you choose, I wish you all the best of luck with your dating. For more advice on what to do when you strike up the first conversation or when you meet up for the first date, check out my other dating articles in the Johnny Cassell Blog.