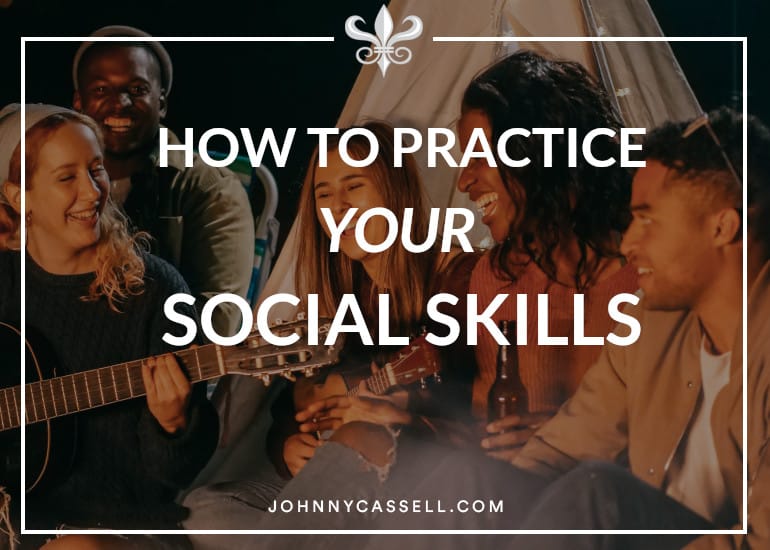 Just as you don't order dinner immediately after walking into a restaurant, you don't skip right to philosophical debates with someone you just met!
Social skills are a subtle, important part of building rapport. You'll become more natural by practicing. I've provided some word-for-word scripts to help you start this process but eventually, you'll be able to put these scripts aside and make them your own—letting your personality shine through.
SERVERS & BARISTAS
---
Servers and baristas are paid to be friendly, so this is a low-stakes situation. Not only do I condone practicing your social skills on these kinds of people, I encourage it. How many customers do you think they've served before you with little to no friendliness? They'll be glad of the human interaction.
Just be aware of your environment: For example, don't make your first small-talk attempt when there's a line of 50 people behind you!
BUILDING RAPPORT
---
If you're getting to know someone, keep the questions SFW (safe for work). You can tackle evocative topics like relationships, finances, childhood, etc after you've built enough rapport.
What's "enough" rapport? There's no formula, but at a minimum, you should have talked on multiple modalities (not just email, but text and over the phone) and you've hung out outside of a professional setting (at a party, you've met for drinks, etc.)
ASK GREAT QUESTIONS
---
Questions are the best way to evoke a response from the other person. Try to stay clear of closed questions that only require a 'yes' or 'no' answer, like "Do you like dancing?" or "Do you drink coffee?". Instead, ask open questions that offer a longer, engaging reply that opens up the responder. Here are some examples, but feel free to make up anything to feels right and relevant in the moment.
"What was the biggest challenge when it came to learning the piano/studying French/launching your startup?"
"If you had to do college/that internship/your birthday party again, what would you do differently?"
"As you gained more experience in your business/career, what's become more important in your downtime?"
Remember, asking questions is a great skill, but if you find yourself asking 5, 6, or 7 questions in a row, your conversational partner will feel interrogated. Share some of your own opinions, so that it's a give and take. Ideally, your partner will get interested enough to ask you questions, and now you have a conversation!
Most of us have barriers to talking about ourselves. We feel we're taking away people's time, so we cut ourselves short, speak too fast, and ask too many questions. If you stick to the rule of "2 questions, 1 statement," ask genuine questions, and make observational compliments, then talking about yourself will add value to your interactions.
USE YOUR LOCATION AS A CONVERSATION STARTER
---
Connecting and building rapport with someone is all about finding common ground, something you both have things to say on. What better instant connection than the place in which you've both found yourselves?
"This is a cool place, I like what they did with the lighting above the bar. "
You've offered a safe topic for the group—no one can say anything wrong here! People will respond, "Yeah, those are pretty cool," and smile. Smile back, make eye contact, and continue engaging the group:
"My favorite place is Cockspur, downtown. They do a great Old Fashioned. Where do you guys like to go?"
See how we're still using the location as a conversation prop to talk about where they like to go? It's another lay-up topic, with no wrong answers.
"I love the new place in the mission."
"I haven't been yet."
"You'll love it!"
Using location is a great, safe starter where nobody can go wrong. If you're ever struggling to find a topic, just look around you!
JOIN GROUP CONVERSATIONS
---
First, instead of thinking, "Why would anyone listen to me?" ask yourself, "I have a lot of value to contribute—what's the best way to add it here?"
Second, people hang out in groups for group conversations. They go out to meet new people. There's nothing rude about joining other conversations… if you do it smoothly.
Logistics are crucial. For example, you should be close enough that you couldn't help but eavesdrop. Don't run from one side of the room to the other like a weirdo, then apologize for interrupting!
Be candid. Smile, and show your enthusiasm.
ALWAYS LEAD
---
Leadership is recognizing that many times, people don't
even care what the decision is, they just want someone to make a choice. Helping to make that choice gently and respectfully adds massive value to their lives. Leadership isn't being pushy or loud. Leadership is taking responsibility, giving people choice, and bringing out the best in yourself and others.
We can choose what kind of leader we want to be, but it starts with our behavior. I want you to focus on two specific behaviors:
Making suggestions (instead of asking questions)
When leading, we want to ditch the questions in favour of turning those into suggestions. For example, rather than asking, "Could I buy you a coffee?" make it, "I could buy you a coffee."
Taking action
When you're really ready to take action, turn that suggestion into a statement. "I could buy you a coffee," becomes "I'm gonna buy you a coffee." People will follow your lead as long you're speaking with confidence.
GET OUR OF AWKWARD SITUATIONS
---
No matter how socially skilled you are, you're going to run into awkward moments. It's inevitable, so let's prepare for it. Like a high-performance athlete, the socially skilled person is ready to recover after they stumble.
Acknowledge you were rambling. Don't self-deprecate or over-correct. Sometimes it's more awkward to leave something unsaid when you're both aware of it. Acknowledge it, make a joke to diffuse the tension if possible and move on.
Think about what you're trying to say in plain English. Then, summarize your main point in one or two sentences.
If you feel you're already starting to scrape the barrel in the conversation and it's not going to go anywhere, they're too busy or uninterested, remove yourself before the awkward silence even comes. Give yourself a reason; "Well, anyway, I'm gonna grab a drink but nice talking to you!" Again, you can use your location for inspiration. In a coffee shop? Say you're gonna get a coffee and remove yourself from the situation while it's on a relative high. Don't flog a dead horse. Get out of there before it gets awkward!
I hope you can start applying these tips right now in order to help improve yourself by 1% every day. Go out there today, get speaking to people and before you know it, you'll be a conversational master. But it won't happen on its own. Get off your device and get talking!
If you require further guidance on improving your social skills, check out the other blogs I have on the subject. And if you're looking for more advice on lifestyle and dating, look no further than the wealth of articles on my website.